Matt Gaetz Investigated Over Alleged Relationship With 17-Year-Old Girl; Claims Family Target Of "Extortion Plot"
Matt Gaetz Investigated Over Alleged Relationship With 17-Year-Old Girl; Claims Family Target Of "Extortion Plot"
Just days after Axios reported that Matt Gaetz, a conservative pro-Trump Republican from the Florida panhandle with a national profile, planned to quit Congress and take a job at Newsmax, the NYT has published some bombshell allegations. The paper reported Tuesday evening that Gaetz is a "subject" in a federal investigation examining whether he had illegal sexual relations with a minor (an unnamed, unidentified woman who was reportedly 17 at the time). Investigators are also looking into whether the woman traveled with Gaetz, which would constitute another federal offense.
The investigation was reportedly opened during the final months of the Trump Administration before AG William Barr left office. The NYT says Gaetz wasn't targeted directly, but that the behavior in question is somehow tied to a Florida official named Joel Greenberg who was indicted last summer on a range of charges including sex trafficking of a child and financially supporting people in exchange for sex, at least one of whom was an underage girl. Greenberg has since resigned his post as tax collector in Seminole County (north of Orlando) and is in jail awaiting trial after having his bail revoked.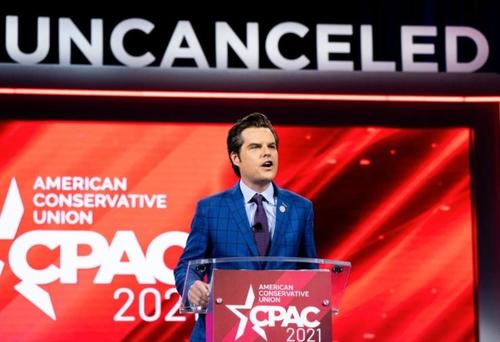 No charges have been brought against Gaetz, and his criminal exposure remains unclear. Gaetz addressed the charges directly in a statement to the NYT, saying he believed the investigation might have resulted from somebody's attempt to "to recategorize my generosity to ex-girlfriends as something more untoward." Gaetz told the NYT "I only know it has to do with women," in regards to the investigation.
Gaetz added that the investigation might be part of a scheme to extort his family for $25MM, before telling a reporter that both he and his father had worn a wire while cooperating with the FBI after being approached by people who said they could make the investigation "go away", though he didn't elaborate. He also told the NYT in a later interview that "it is verifiably false that I have traveled with a 17-ear-old woman."
In a statement published later, Gaetz said "The allegations against me are as searing as they are false," Gaetz said in an interview. I believe that there are people at the Department of Justice who are trying to criminalize my sexual conduct, you know when I was a single guy."
Gaetz also published a statement on twitter reiterating his comments about his family cooperating with the FBI, after becoming "victims of an organized criminal extortion involving a former DOJ official seeking $25MM." The part about the involvement of a corrupt DoJ official differed from his earlier statement.
Over the past several weeks my family and I have been victims of an organized criminal extortion involving a former DOJ official seeking $25 million while threatening to smear my name.

We have been cooperating with federal authorities in this matter…

— Rep. Matt Gaetz (@RepMattGaetz) March 30, 2021
…and my father has even been wearing a wire at the FBI's direction to catch these criminals. The planted leak to the FBI tonight was intended to thwart that investigation.

No part of the allegations against me are true, and the people pushing these lies are targets…

— Rep. Matt Gaetz (@RepMattGaetz) March 30, 2021
…of the ongoing extortion investigation.

I demand the DOJ immediately release the tapes, made at their direction, which implicate their former colleague in crimes against me based on false allegations.

— Rep. Matt Gaetz (@RepMattGaetz) March 30, 2021
The 38-year-old congressman proposed to his girlfriend at Mar a Lago late last year. But he made headlines months ago after proclaiming that he "had a son", later explaining the son, Nestor Galban, 19, was actually the brother of his then-girlfriend. "He is a part of my family story," Gaetz told People magazine in June. "My work with Nestor, our family, no element of my public service could compare to the joy that our family has brought me."
The nature of Greenberg's relationship to Gaetz is unclear. But one thing is for sure: progressives on twitter are having a field day as Gaetz's plans to jump to Newsmax evaporate. They're also slamming him for hypocrisy, after Gaetz repeatedly criticized top Democrats for ties to convicted pedophile financier Jeffrey Epstein.
It's kinda surprising that Matt Gaetz leaked he's retiring early from politics. I figured he'd still be attracted to his career given that it's still pretty young.

— Charlotte Clymer 🏳️‍🌈 (@cmclymer) March 30, 2021
Matt Gaetz belongs in prison. For so many reasons.

— Scott Dworkin (@funder) March 30, 2021
Gaetz was first elected to Congress in 2016. As a member of the Florida State Legislature and the scion of a Republican political family,
Democratic Congressman is already pushing to have Gaetz stripped of his House Judiciary Committee assignment, an echo of how Democrats disenfranchised Marjorie Taylor-Greene.
Rep Matt Gaetz should be taken off the @HouseJudiciary Committee until the @TheJusticeDept investigation is completed. He should not be sitting on a Congressional Committee with oversight over the DOJ while the Department is investigating him. https://t.co/TKRfSyCgHe

— Ted Lieu (@tedlieu) March 30, 2021
The DOJ does not take lightly opening a criminal investigation against a Member of Congress. Hard to believe root cause of problem would be a single former DOJ official making up allegations. There would be an entire team of federal agents & prosecutors investigating Matt Gaetz. https://t.co/kLx1CP5hjJ

— Ted Lieu (@tedlieu) March 30, 2021
There's clearly a lot going on here, and we suspect more information about the investigation, and Gaetz's claims, will surface in the coming days. In the meantime, one twitter user pointed out that Gaetz's extortion claims aren't actually all that far-fetched.
Explosive allegations by Gaetz that we will undoubtedly learn more about.

Note that it is possible for him to be the victim of extortion and also be implicated in wrongdoing himself.

In other words, whether he was extorted and whether he committed a crime are separate issues. https://t.co/ja6Qa9usbw

— Renato Mariotti (@renato_mariotti) March 30, 2021
Tyler Durden
Tue, 03/30/2021 – 20:08