Mattel's Cybertruck Toy Is, In True Tesla Fashion, Facing Production Delays
Mattel's Cybertruck Toy Is, In True Tesla Fashion, Facing Production Delays
Toys are becoming so realistic these days…
Mattel's planned Cybertruck toy – much like the Cybertruck itself – is facing delays and won't be arriving on time for the holidays, according to Engadget. The toy was originally planned to ship this month, but due to a (we swear we are not making this up) "unforeseen production issue," it has been delayed.
Customers received the bad news via email from Mattel this week, who said the new targeted delivery date is going to now be May 2021.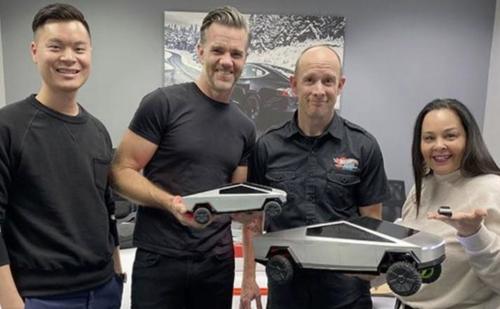 Recall, Tesla had partnered with Hot Wheels back in February of this year to produce the RC toys, according to electrek. The partnership was struck about 3 months after the actual Cybertruck's reveal, which was in November 2019. 
"The 1:64 scale Cybertruck is going to sell for just $20 while the bigger 1:10 scale will go for $400," electrek wrote at the time. Now, it looks like neither will sell at all.
Engadget also gushed about the toy in early 2020:
The Hot Wheels Cybertruck R/C has all the details you would expect for a toy that costs a few hundred dollars, including rows of front and rear lights and the distinctive rear cover with a telescoping tailgate. Sadly, unlike the original, it's not automatically activated — you'll have to pull it out by hand. There's also no RC Cyberquad ATV to tuck neatly into the truck bed. (Mattel is thinking about introducing one down the line, but nothing's set in stone yet.)
You can check out the introduction of the RC Cybertruck here, if that's your cup of tea:
Tyler Durden
Tue, 12/22/2020 – 15:45