Meet The World's Most Advanced Beer-Pissing Robot 
Meet The World's Most Advanced Beer-Pissing Robot 
YouTuber Michael Reeves was able to get his hands on a Boston Dynamics' robot dog Spot and teach it how to pee beer into a cup. The video, which has gone viral and has more than 6.6 million views. 
"It's an engineering masterpiece, I wanna make it piss beer into a cup," Reeves said, who was quoted by NYPost. The 16-minute clip runs through Reeves' development process of teaching Spot how to piss beer in a cup.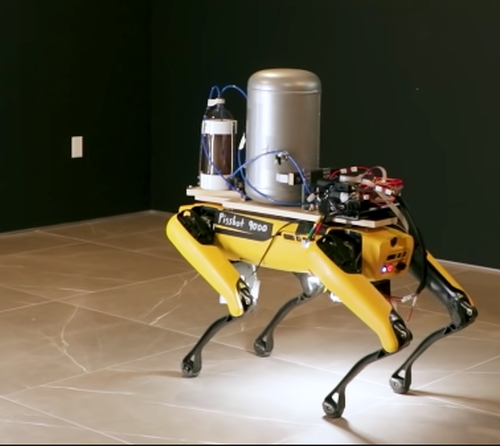 By the 9:39 minute mark of the video, Reeves unveils the "pissbot" and tells viewers this is the "future of alcoholism."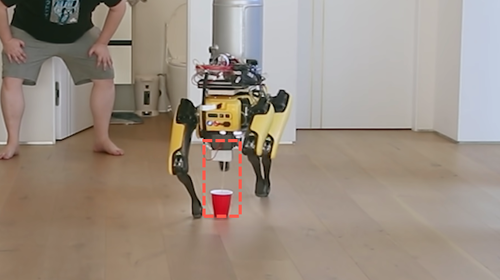 So here's how pissbot works. You can be anywhere in the room and place the cup on the ground. The robot will find the cup and walk to it using sensors, eventually aligning its piss nozzle and filling up the beer cup. 
Reeves explains the technology works about 35% of the time. The cutting-edge pisspot failed several attempts but eventually succeeded, pissing a nice cold brew into a solo cup with precision. 
Since Boston Dynamics recently made Spot commercially available, others have programmed the robot dog to survey oil rigs and buildings. Others have strapped paintball guns to the Spot, which angered the robotics firm. Even the French Army is testing Spot. 
Spot's terms and conditions prohibit the use of weaponizing the robot "to harm or intimidate any person or animal, as a weapon, or to enable any weapon." One could argue that if Spot is used as a reconnaissance robot, it would indirectly harm a human being (a gray area). 
So pissing beer in a cup is fine, but using the robot for warfare is frowned upon by the company. 
At the end of the video, Reeves travels from Los Angeles to Boston Dynamics' headquarters in Waltham, Massachusetts, to take a piss, showing his respect for the robotics company.
Tyler Durden
Thu, 04/15/2021 – 22:50