Merkel's CDU Backs Centrist Party Chairman Armin Laschet In Bid For German Chancellor
Merkel's CDU Backs Centrist Party Chairman Armin Laschet In Bid For German Chancellor
As German conservatives fight it out seeking Angela Merkel's successor to lead her Christian Democratic Union (CDU) into the September election, on Monday party bosses threw their weight behind Armin Laschet to represent the center-right's candidate for next Chancellor of Germany.
"We have expressed our clear support for our party leader and made it clear that we consider him to be exceptionally suitable," CDU premiere Volker Bouffier said of broad party support.
This comes after months of behind-the-scenes jockeying between the 60-year old Laschet – head of Merkel's CDU –  and rival candidate Markus Soeder, who leads the CDU's Bavaria-only sister party named the Christian Social Union.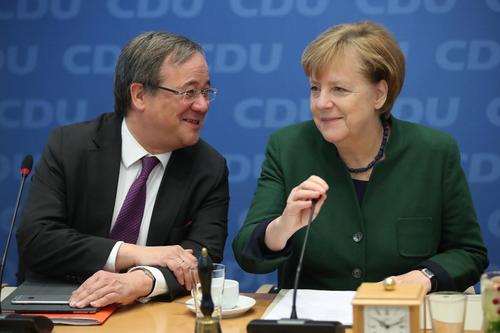 "Everyone wants a quick decision," Laschet said at the start of this week. "All the facts are on the table. The problems we have to solve… are so big that we shouldn't occupy ourselves any longer with our internal issues."
The two sides have been gridlocked thus far, with it now appearing the party has finally tapped Laschet according to various reports.
As the AP reviews:
Laschet and Soeder — the governors of Germany's two most populous states, North Rhine-Westphalia and Bavaria respectively — both officially declared on Sunday that they're prepared to run for chancellor in the Sept. 26 parliamentary election, but insisted that they will find a harmonious solution. They didn't specify how.

Both have advantages and disadvantages: Soeder's poll ratings are much stronger, but Laschet is the recently elected leader of by far the bigger of the two parties.
VIDEO: Angela Merkel's conservative CDU party picks her ally Armin Laschet as its next leader, in a key vote that kicks off the race for Germany's top job as a deadly pandemic roils Europe's biggest economy pic.twitter.com/waryRe9gyh

— AFP News Agency (@AFP) January 16, 2021
A potential Laschet chancellorship is likely to continue many of Merkel's own centrist policies, given he tends to be viewed as consistently most in her corner and unlikely to break from her "pragmatic" and compromising approach in national politics. 
Looking good for Laschet, as the CDU backs him in race to succeed Merkel. But was it the right choice? Many CDU MPs wouldn't have preferred Markus Söder as the CDU/CSU's "Kanzlerkandidat" https://t.co/hWmXYPTcSI via @financialtimes

— Guy Chazan (@GuyChazan) April 12, 2021
Merkel and her CDU have taken a serious hit and faced immense public backlash of late over botched coronavirus policies, particularly after she rolled out a draconian 5-day Easter weekend 'strict lockdown' which so angered the public that she was forced to rescind the plan almost immediately upon its proposal. 
Tyler Durden
Tue, 04/13/2021 – 02:45