Mobile Home Frenzy: RV Shipments Soar 43% In November
Mobile Home Frenzy: RV Shipments Soar 43% In November
America's RV craze continues.
According to the RV Industry Association's survey of North American manufacturers, all-towable RV shipments soared 46.3% in November to 38,485 from 26,297 a year earlier,  All motorhome shipments rose 20.3% last month to 4,028 from 3,347, and total RV shipments grew 43.4% in November to 42,513 from 29,644.
As Americans can no longer afford to buy "stationary" homes, they are increasingly moving to mobile variants (or perhaps they just want to be able to scatter at a moment's notice), and so far this year through November, all-towable RV shipments totaled 353,109 compared to 334,792 from the previous period, a 5.5% Y/Y growth.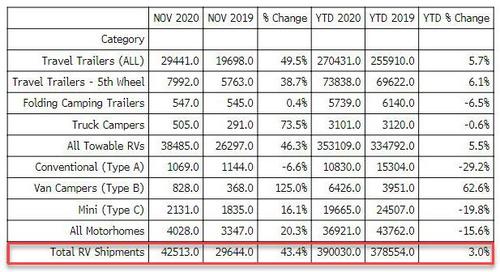 All motorhome shipments totaled 36,921 compared to 43,762, for a 15.6% decline. Total RV shipments totaled 390,030 compared to 378,554, an increase of 3.0%.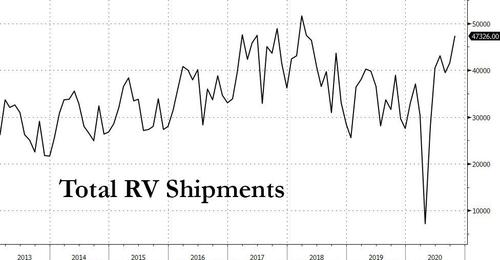 Tyler Durden
Tue, 12/22/2020 – 20:25