More Good News On COVID Hospitalizations In The Northeast
More Good News On COVID Hospitalizations In The Northeast
A little over two weeks ago we showed that despite the continued rise in covid cases in the US, where BofA calculated that the 7-day average of new US cases hit a new record high of 241,600 yesterday with daily Covid-related deaths at 3,190 and hospitalizations at 4,840 at new highs, having risen 20% over the past week…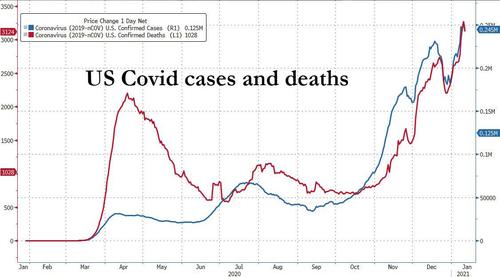 … the trend in US hospitalizations was decidedly optimistic, with the second derivative of hospitalizations – or the daily number of new admission – continuing to moderate with the weekly increase well below 10,000 versus the peak of near 15,000 almost two weeks ago.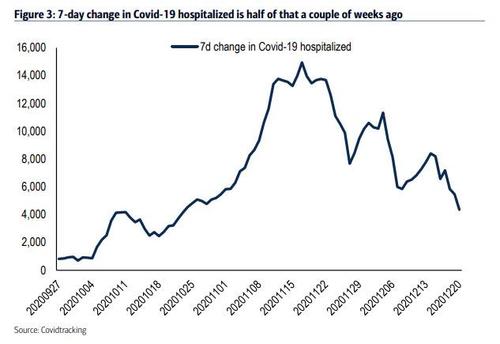 As a reminder, in Mid-December, we reported why according to Goldman, covid-related hospitalizations are about to tumble – just as Biden gets inaugurated – as more vaccinations are rolled out, and the latest data validates this.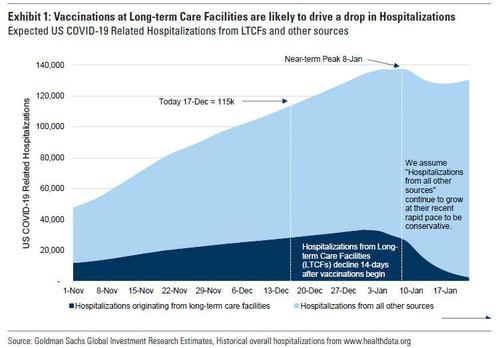 To be sure, despite the increase in absolute terms, the hospitalization rate as a percentage of daily new infections has remained remarkably steady as the following charts from JPMorgan show:

And while select hospital systems are indeed nearing overcrowded levels – which are due to numerous other factors in addition to covid – as the following chart of the ten most overcrowded hospital systems shows…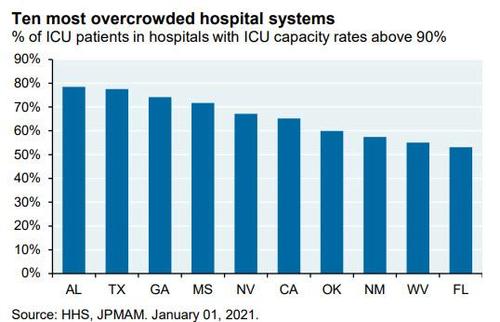 … even Bloomberg now writes that "the pace of Covid-19 hospitalizations in the Northeast is showing some preliminary signs of easing, adding to hopeful indicators in the Midwest, where the latest viral wave began."
According to the report, the number of people currently hospitalized with Covid-19 in the Northeast was 21,494 as of Sunday, up 0.8% from a week earlier, the smallest seven-day percentage increase since Sept. 25, according to Covid Tracking Project data.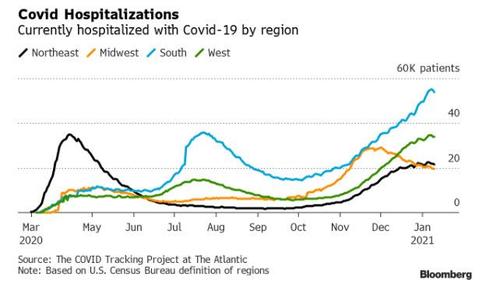 Bloomberg's admission that contrary to widespread fears that covid would crush the US hospital system comes as the virus is now raging once again primarily across the Sun Belt and as many states are finding tremendous challenges with the vaccine rollout.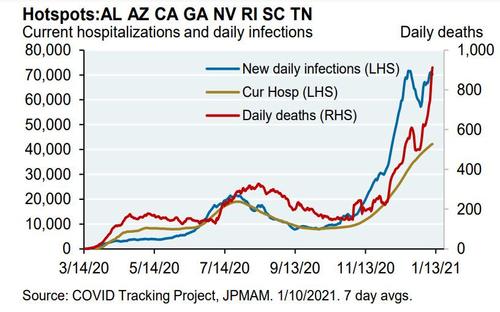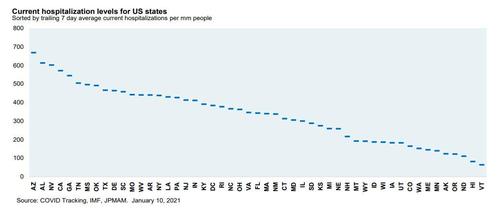 Based on U.S. Census Bureau definitions for each region, hospitalizations are up 6.1% in the past week in the South; up 4% in the West; and down 4.2% in the Midwest.
And some more good news according to the Covid Tracking Project, as reported by Bloomberg: no states posted record cases on Sunday, but weekends are typically slower reporting periods.
Finally, according to Bloomberg, Arizona now leads the nation in people currently hospitalized with the virus per capita, with 685 per million residents.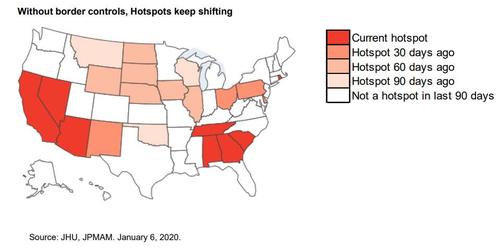 Tyler Durden
Mon, 01/11/2021 – 21:20