Morgan Stanley: "This Correction Has Arrived And It's Likely To Get Worse And Feel Bad"
Morgan Stanley: "This Correction Has Arrived And It's Likely To Get Worse And Feel Bad"
Last Wednesday, even before the full extent of the r/wallstreetbets short squeeze had emerged, which would culminate with GME soaring above $500, the VIX surging above 30 and the Dow suffering two 600+ point drops, JPMorgan's Marko Kolanovic emerged from winter hibernation to give the suddenly skittish bulls his usual pep talk, dismissing concerns that the short squeeze could impact stocks beyond just the immediate term and concluding that "any market pullback, such as one driven by repositioning by a segment of the long-short community (and related to stocks of insignificant size), is a buying opportunity, in our view."
What we found strange is that just one day later, another JPM analyst, this time Andrew Tyler author of the popular daily "Market Intelligence" recap note, had a far less bullish take, and when rhetorically answering the question "are we there yet" (referring to whether the deleveraging short squeeze is finally over), he said that "put together, in N. America, the 4wk active de-grossing has NOT yet reached even a 1z event and not nearly where things got to last March/April or in prior periods of strong de-grossing. Furthermore, with notional exposures effectively still near highs (and performance negative), it's likely that gross leverage has gone up for many funds…. the fact that this is NOT occurring due to a broader weakening in the macro backdrop makes it harder to gauge how much further this should go."
Hardly a ringing endorsement of Kolanovic's permabullishness, which is odd coming from a cowker for the Croatian quant.
Then, as we reported in a post that went viral, over the weekend Goldman chief equity strategist David Kostin basically warned that if the squeeze continued, things could get a whole lot worse, point to the dramatic outperformance of retail favorite stocks vs the S&P and hedge fund VIP stocks…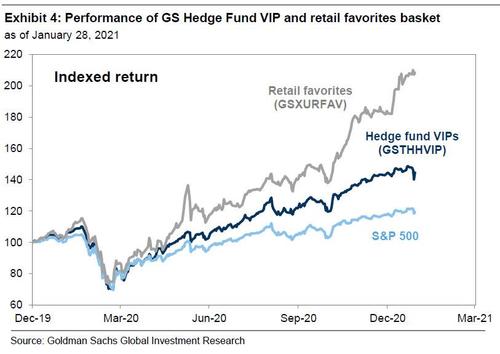 … and  writing that "this week demonstrated that unsustainable excess in one small part of the market has the potential to tip a row of dominoes and create broader turmoil."
This morning, none other than Goldman's biggest competitor on Wall Street, Morgan Stanley, appears to have come to the same conclusion as Goldman, with the bank's chief equity strategist Michael Wilson writing that "oer the last few weeks we suggested a correction was nigh although we didn't have a catalyst. Now we do – positioning and leverage should do the rest."
Yet while that sounds ominous, Wilson couldn't go full bear for obvious reasons, and caveats that "while this correction is likely to get worse and feel bad in the short term, this is not a bubble or like 2000 for many reasons."
Some more details from Wilson, who again takes a victory lap referring to his recent warning of an imminent drawdown in a market gripped by massive euphoria (see "Morgan Stanley Warns "Market Ripe For A Drawdown" As "Risk/Reward Has Deteriorated Materially"), and writes that "after nearly 3 months of an unimpeded run, US equity markets appear to be finally taking a real break. As we have noted over the past few weeks, many of our technical indicators were stretched, leaving markets at risk of a correction at any moment."
He then repeats a warning he had noted previously, saying that "when firmly in a new bull market, corrections are often harder to time due to the lack of obvious fundamental catalysts. After all, earnings revisions and financial conditions remain very supportive of equity markets. Instead, it's usually something unforeseen and in this case it was a combination of things."
The three things that sparked the correction, according to Wilson are the following:
"First, while liquidity remains plentiful, there was a case building that we had reached the peak rate of change for this cycle. With the y/y % growth in M1 and M2 running at 72% and 27%, respectively, it's hard to imagine this is going to accelerate further from here. To put those growth in numbers into context, that's twice as fast as we have ever witnessed in history (Exhibit 2). When looking at the very near term it appears that the week of January 11th may end up being the peak for two reasons: 1) the Georgia run off election almost ensures we will get some additional fiscal stimulus even if it comes via the budget reconciliation avenue. This takes the pressure off the Fed to do more. 2) We view the inauguration as a risk event like Y2K that the Fed was likely worried about. Given that it passed without incident much like Y2K, we think the Fed can now back off a bit."

"Second, leverage in the financial system has been on the rise since November when the first vaccines were announced. Gross leverage for hedge funds was in the 100th percentile as we entered the year. Meanwhile cash balances at long only funds were near record lows. If that wasn't enough, call buying activity by retail investors has never been higher and margin debt is very elevated as well, So even if M1 and M2 growth is likely to fall materially, it's hard to imagine liquidity going any higher and it wouldn't take much to see it reverse. We just needed a trigger."
This is a similar point made by Goldman's Kostin who said that gross and net exposures "remain close to the highest levels on record" (something which may come as a surprise to Marko Kolanovic who has been claiming the opposite), suggesting that if the squeeze continues, hedge funds are set for much more pain.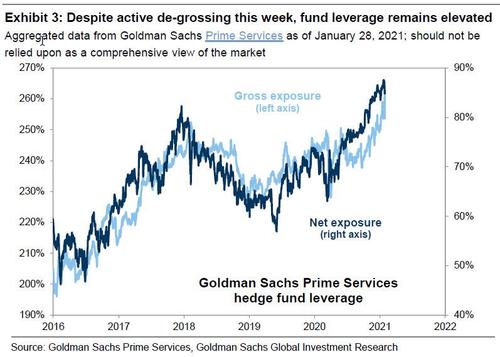 Which brings us to the final – and most important – correction catalyst:
"Third, the aggressive short squeeze strategies employed by a certain group of investors was the spark. These targeted squeezes forced the leverage to come out of the system starting with hedge fund gross exposures. Initially, it didn't have much of an effect on the major indices but last week that all changed. The forced reduction of gross leverage via short covering led to a reduction in long exposure and net leverage. Major averages traded lower by 3-5% with many stocks down 10% or more."
There is some good news: after some hedge funds suffered tremendous pain (most notably Melvin Half Capital), there was an explosion of deleveraging on Wednesday and Thursday in the levered community, when some desperate hedge funds went so far as raiding the XRT ETF for GME shares, resulting in a record plunge in XRT assets…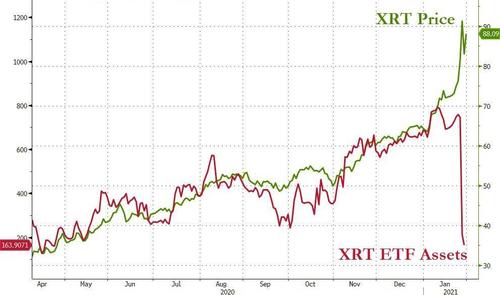 … and the result on Monday is that the Short Interest has collapsed as we reported earlier, a precursor to a much steeper drop in GME stock price.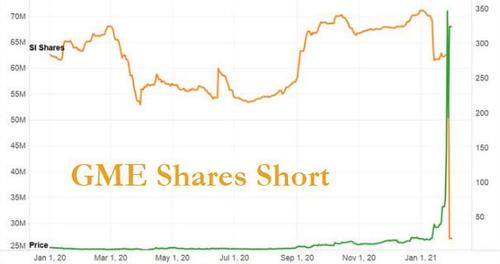 Then again, maybe not: as Wilson ominously notes, "while leverage has been reduced significantly in just a few days, we think it has further to go, particularly if these targeted short squeeze activities persist." Even even if they don't, Wilson says that it's likely that realized volatility remains elevated and that should force further reductions in gross exposures. More importantly, said gross down also raises a question on valuations as the Equity Risk Premium is sensitive to changes in volatility, and consequently, financial conditions.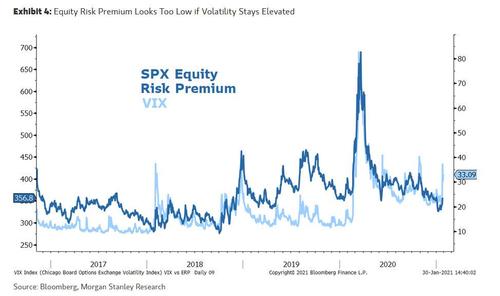 What this means is that Wilson's positioning remains bullish over the longer-run, but in the near term he sees further pain as the excesses of the past few months have to be flushed away, and as long as hedge fund leverage remains near all time highs, it is likely that even a modest squeeze will lead to further liquidations of most popular long positions.
Finally, Wilson reminds readers that last week he suggested that his favorite trades were also vulnerable to a correction, citing several pair trades namely Cyclicals/Defensives, Small / Large Caps and Equal weight/Market cap weight SPX. Sure enough, last week all three pulled back. So has Wilson capitulated? Yes and no: while he still likes all three in the longer term he thinks "they have more downside before this correction is over. This pain can also be seen in our Fresh Money Buy list which has a definite skew toward these themes."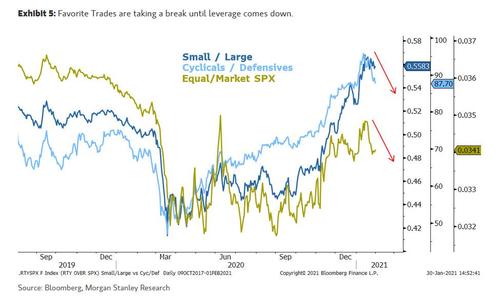 Wilson's bottom line, "use this correction to add to these themes and ideas but be patient until the leverage readings fall further."
And in a world of infinite liquidity, such deleveraging could take a long time…
Tyler Durden
Mon, 02/01/2021 – 15:03