NASA Tests "World's Most Powerful Rocket" Ahead Of 2024 Moon Mission
NASA Tests "World's Most Powerful Rocket" Ahead Of 2024 Moon Mission
NASA's Artemis program to land the first woman and next man on the Moon by 2024 has been a widely spoken about topic in recent months. The space agency is collaborating with commercial and international partners to make the lunar mission possible. 
On Thursday afternoon, NASA completed the testing firing of deep space rockets made by Boeing/Aerojet. For eight minutes, four main engines remained ignited. This follows a failed test in January.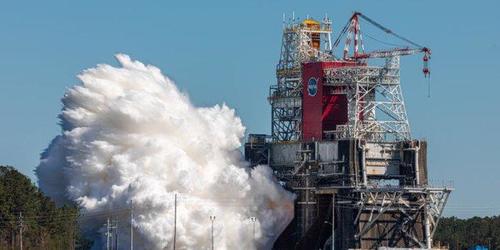 NASA tweeted a video of the ground-based rocket engine test, saying, "Ready to see the world's most powerful rocket come alive?"
Ready to see the world's most powerful rocket come alive?

🚀 Watch this recap of our @NASA_SLS's hot fire test with all 4 of its engines firing, just as they will during the @NASAArtemis I launch to the Moon this year: https://t.co/lsjhVU9h30 pic.twitter.com/wdUqG0HCGN

— NASA (@NASA) March 19, 2021
The four engines will be the core stage of the Space Launch System or SLS rocket, a Space Shuttle-derived super heavy-lift expendable launch vehicle that will propel astronauts to the Moon in the coming years. 
"With this critical test finally finished — and assuming everything went well — NASA can now send the rocket segment to Florida's Kennedy Space Center to prepare it for launch," said AP. 
Officials declined to tell AP if the first SLS launch will occur this year or next, but timelines suggest the rocket could launch an empty Orion capsule to the Moon sometime this year or next. Then by 2022, a crewed test flight is expected, with the crewed lunar mission in 2024.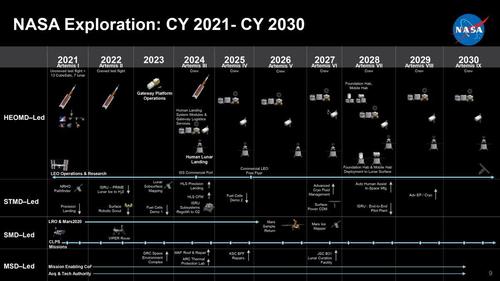 Credit goes to the Trump administration, who pushed very hard to land astronauts on the Moon by 2024. The Biden administration has yet to fiddle with timelines. 
NASA Acting Administrator Steve Jurczyk said it would take a few months to accurately gauge when the crewed mission to the lunar surface occurs.  
Boeing is the prime contractor on the SLS project. Aerojet Rocketdyne builds the rocket and engines. 
Tyler Durden
Fri, 03/19/2021 – 22:40