New Year Kicks Off With High Hopes, Mixed Signals
New Year Kicks Off With High Hopes, Mixed Signals
By Bloomberg commentator Jan-Patrick Barnert
The year that everyone is pinning their hopes on is finally here. After a late 2020 rally, however, market signals are mixed about the potential for stocks to climb the next leg higher. Here's a quick look at where we are and what to watch for in the coming weeks.
Europe's stocks ended 2020 with a year-end rally as the Brexit trade deal finally made it across the finish line. It wasn't enough for the Stoxx 600 to erase its annual losses, however, and the momentum has cooled down considerably. Many argue that a lot of good news is now priced in, at least in the short term.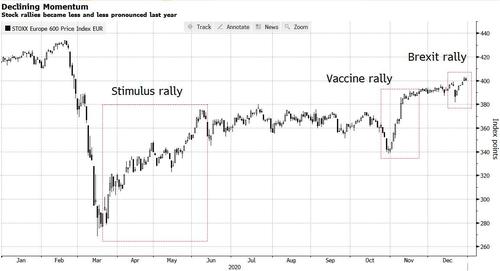 Looking at Euro Stoxx 50 futures, the picture is rather neutral. While the latest support held and there are no clear sell signals yet, there are also no convincing signs pointing to another leg higher.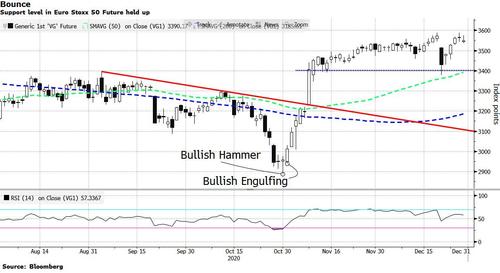 The first quarter isn't short of risk events that could determine the initial market direction. This week's U.S. Senate run-off election is the first stop, with Jefferies strategists calling it "the obvious risk."
Later this month, the ECB and the Federal Reserve hold meetings, with fourth-quarter GDP figures following in February. Over in Asia, the China National People's Congress will start in early March.
Volatility has stayed elevated, indicating some caution still lingers. The VIX Index, while at lower levels than during the sharp selloff in early 2020, has stayed above the 20-point mark for 218 days now. That's only the fourth time since 1990 that the gauge has remained above that threshold for more than 200 days. The VStoxx Index of euro-area volatility has also held above 20 since late February.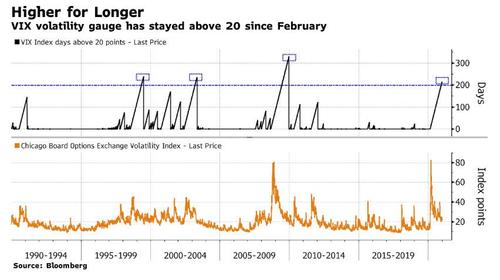 The November rotation that sparked optimism about a long-awaited revival in the value trade got a reality check just a month later as growth stocks took over again. While a sustained switch may be key for Europe to outperform, a key value sector — banks — face hurdles ahead. The fine print of the Brexit may affect London's financial industry, while the dividend debate is far from over.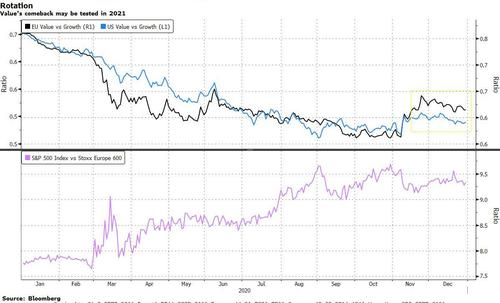 Sentiment wise, there's room for a catch up as markets have rallied harder than a euro-area measure of confidence. Other indicators like the CNN Fear & Greed index have recently retreated from very bullish levels, indicating that while stocks are higher, there may not be too much exuberance in the wider market.
Additionally, the high level of cash still on the sidelines might limit the downside in any short-term setbacks.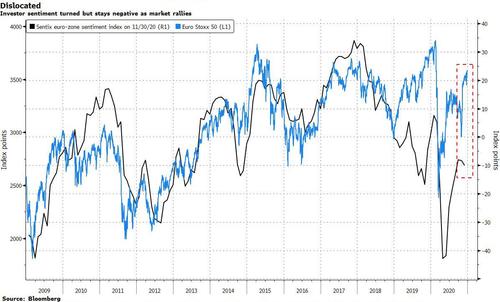 Things look smooth on the data front so far, although stricter lockdowns toward the end of the year in some countries may mar the short-term picture. With the consensus treating 2021 as the year of economic recovery, macro data will need to deliver on high expectations.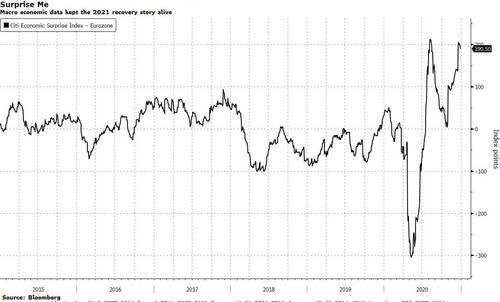 Tyler Durden
Mon, 01/04/2021 – 11:41