NHTSA Says No Defects Found In Tesla Probe Of Sudden Unintended Acceleration
NHTSA Says No Defects Found In Tesla Probe Of Sudden Unintended Acceleration
Despite what feels like countless examples over the last few years of Teslas experiencing what owners called "unintended acceleration" (like this), the National Highway Traffic Safety Administration said on Friday that it would "not grant a petition seeking a formal review of 662,000 Tesla vehicles for claims of sudden unintended acceleration," according to Reuters.
The regulator said that the review of a December 2019 petition, which we previously reported on here, found out that the incidents in question "were caused by pedal misapplication. NHTSA found no evidence of fault in the accelerator pedal assemblies, motor control systems, or brake systems that contributed to the cited incidents."
The petition included 232 complaints to the NHTSA about unintended acceleration. Of these, there were 203 crashes.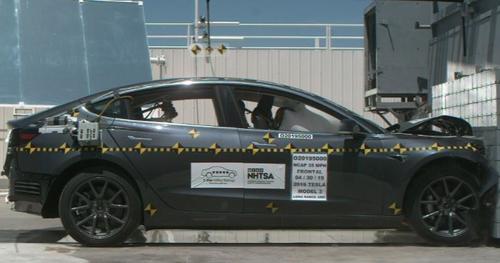 The NHTSA says its Office of Defects received the defect petition on December 19, 2020 and that the request applied to model year 2012 through 2019 Tesla Model S vehicles, model year 2016 through 2019 Tesla Model X vehicles and model year 2018 through 2019 Tesla Model 3 vehicles. 
The agency commented that "there is no evidence of a design factor contributing to increased likelihood of pedal misapplication. The theory provided of a potential electronic cause of SUA in the subject vehicles is based upon inaccurate assumptions about system design and log data."
Last summer we reported that two dozen Tesla owners had signed onto a lawsuit in the Bay Area that alleges the company's Model 3 vehicles can dangerously accelerate on its own. The suit was filed originally in January by eight plaintiffs in six states and the suit has now expanded to include 23 plaintiffs in 11 different states, according to the East Bay Times. The company "has been intentionally overlooking a dangerous problem while rushing its vehicles to market," the lawsuit claimed.
But, the NHTSA appears to have said that these hundreds of Tesla owners are all just imagining things…
We stick by what we said almost one year ago to the day: "…t is no surprise to us that the NHTSA has not made a determination as to whether or not an investigation is warranted regarding the new petition yet. Because if it isn't clear as day to them at this point, we're not sure what it's going to take to wake these regulators from the half decade long slumber they've been in."
Certainly, videos like this didn't seem to sway their opinion. Just normal driver error, according to the NHTSA:
China Tesla M3 owner reports sudden acceleration and brake failure in this accident caught on tape. This is at least the second incident this year where a $TSLA M3 made viral news in China due to alleged brake failure. pic.twitter.com/XSr8dHQxfA

— Stultus (@StultusVox) August 19, 2020
But we digress…
Tyler Durden
Fri, 01/08/2021 – 15:50