Nike Stock Tumbles After Big Miss On North America Revenues
Nike Stock Tumbles After Big Miss On North America Revenues
Nike reported a surprising miss in revenue for the 3rd quarter, down 1% YoY ($10.36 billion, estimate $11 billion).
"NIKE continues to deeply connect with consumers all over the world driven by our strong competitive advantages," said John Donahoe, President & CEO, NIKE, Inc.

"Our strategy is working, as we accelerate innovation and create the seamless, premium marketplace of the future. I've never been more confident in our leadership and teams to operate with agility in a dynamic environment."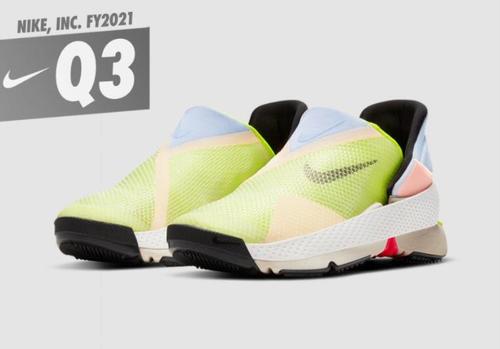 The breakdown highlights where the big breakdown was:
North America rev. $3.56 billion, estimate $4.15 billion

Greater China rev. $2.28 billion, estimate $1.98 billion

Asia Pacific & Latin America rev. $1.32 billion, estimate $1.42 billion

EMEA rev. $2.61 billion, estimate $2.99 billion
The blame was squarely put on the shoulders of supply-chain disruption:
Our third quarter revenue performance was impacted by disruption related to the COVID-19 pandemic, particularly in North America and EMEA. North America revenues declined 11 percent on a currency-neutral basis, largely driven by global container shortages and U.S. port congestion, which delayed the flow of inventory in the third quarter by more than three weeks, impacting timing of wholesale shipments, and partially offset by NIKE Direct growth of 15 percent.
But for now it wasn't enough to satisfy investors: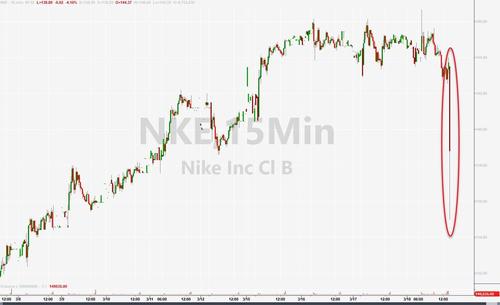 NKE execs did their best to provide something for investors to buy:
During its FY20 fourth quarter, the Company temporarily suspended share repurchase activity in March to maximize liquidity during the COVID-19 pandemic. Prior to the temporary suspension of the share repurchase program, a total of 45.2 million shares had been repurchased under the program for approximately $4.0 billion. The Company expects to resume share repurchases under its existing share repurchase program in the fourth quarter of fiscal 2021.
Sigh.
Tyler Durden
Thu, 03/18/2021 – 16:21