Nike Sues Maker Of "Satan Shoes" That Stoked Boycott Threats
Nike Sues Maker Of "Satan Shoes" That Stoked Boycott Threats
Nike is suing a small, Brooklyn-based novelty shop, accusing it of trademark infringement for repurposing used pairs of Nike Air Max 97s as the basis for the shoe.
Legal analysts say the company's trademark infringement case will be closely watched, given the prevalence of repurposing and "remixing" that permeates contemporary pop culture, from music, to clothing to social media.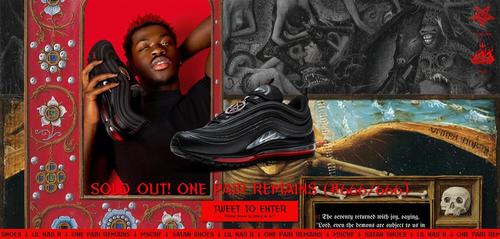 But the real motivation for the sneaker giant's lawsuit is the damage to Nike's brand, which was apparently significant enough that it impacted the price of the company's shares, after politicians and religious authorities called for a boycott of the athletic clothing company, despite its increasingly desperate statements claiming it had nothing to do with the making or marketing of the "Satan Shoes".
Nike is suing for damages, including all the profits earned by MSCHF. In the lawsuit, the firm said it is "likely to suffer damage to its trademark, business reputation and goodwill" because of the controversy inspired by the shoes. "Nike is in no way connected with this project," the company said in its preliminary statement.
"As a direct and proximate result of MSCHF's wrongful acts, Nike has suffered, continues to suffer, and/or is likely to suffer damage to its trademarks, business reputation, and goodwill that money cannot compensate," the lawsuit added. "Unless enjoined, MSCHF will continue to use Nike's Asserted Marks and/or confusingly similar marks and will cause irreparable damage to Nike for which Nike has no adequate remedy at law."
The company, MSCHF Product Studio, Inc., brought in popular rapper Lil Nas X for a "collab", timing the shoes for release alongside Nas X's new single, "Monero (Call Me By Your Name)", which the rapper says is a note to his 14-year-old self, who was still struggling with his sexuality. The music video for the song only served to further the controversy, as it featured footage of the rapper "twerking" on Satan.
Shares of Nike moved lower during extended trading hours last night, a move that continued into Tuesday's session.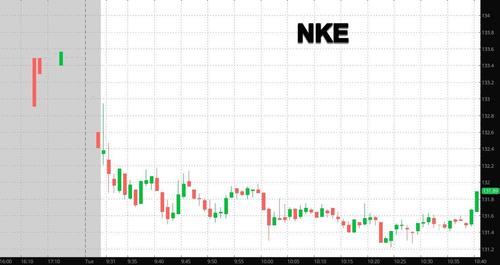 The shoes feature the brand's signature "swoosh" logo prominently on the side of the shoe and on its tongue. The shoes, which sold out in minutes, cost $1,018, a reference to the Bible passage Luke 10:18, which reads "I saw Satan fall like lightning from heaven."
The company said Tuesday that it had sold all but one pair – out of 666 offered – of the Satan Shoes, and that the last pair would be given away via auction later this week.
Read the lawsuit in its entirety below:
Tyler Durden
Tue, 03/30/2021 – 20:25