North Korea Issues First Threat Toward Biden Administration Through Kim's Powerful Sister
North Korea Issues First Threat Toward Biden Administration Through Kim's Powerful Sister
North Korea has issued its first statement directed toward the Biden administration which is being widely reported as in reality a "threat". It comes as a high level US delegation is in the region to focus on China strategy, which includes talks with US allies regarding denuclearizing the Korean peninsula. 
The powerful sister of Kim Jong Un, Kim Yo Jong, warned the United States it must "refrain from causing a stink" if it desires to "sleep in peace" over the next four years.
"We take this opportunity to warn the new U.S. administration trying hard to give off gun powder smell in our land," she said.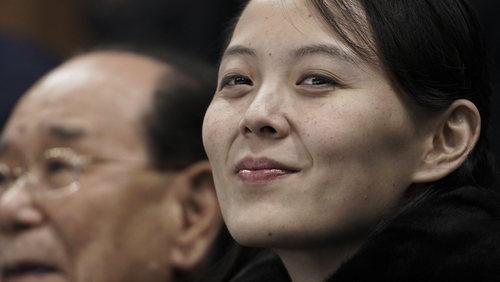 "If it wants to sleep in peace for coming four years, it had better refrain from causing a stink at its first step," she added.
Kim Yo Jong's ominous words of warning appeared prompted by US Secretary of State Antony Blinken and Defense Secretary Lloyd Austin touching down in Asia early this week to hold key security talks with South Korea and Japan. The top officials traveled to Tokyo first and are due in Seoul by Wednesday.
The pair issued a statement aimed at Pyongyang from Tokyo on Tuesday, underscoring the US is working with regional partners toward the "complete denuclearization of North Korea".
Following Trump's 'bromance' with Kim Jong Un which led to historic, breakthrough face-to-face meetings, the dialogue was indefinitely stalled by the tail-end of the Trump administration. At this point the Biden White House claims to have reached out via "a number of channels".
North Korea are masters at getting America's attention and forcing themselves on the agenda. By making a series of threats now, Pyongyang are unintendedly distracting the US from the anti-China dynamic of Blinken's visits too.

— Tom Fowdy (@Tom_Fowdy) March 15, 2021
White House press secretary Jen Psaki said Monday that "Diplomacy is always our goal. Our goal is to reduce the risk of escalation. But, to date, we have not received any response."
She added that it "follows over a year without active dialogue with North Korea, despite multiple attempts by the US to engage."
Tyler Durden
Tue, 03/16/2021 – 17:05