Officer Who Shot & Killed Veteran During Capitol Chaos Placed On Leave, Faces Internal Probe
Officer Who Shot & Killed Veteran During Capitol Chaos Placed On Leave, Faces Internal Probe
Nearly 24 hours have passed since yesterday's chaos on Capitol Hill, which left one individual dead from a gunshot wound, and three others dead from unrelated medical emergencies on the Capitol grounds, and finally the Capitol Police have published a statement.
In it, Chief of Police Steven Sund denounced the thousands of demonstrators who later participated in the storming of the Capitol as criminals, condemning their "criminally riotous behavior."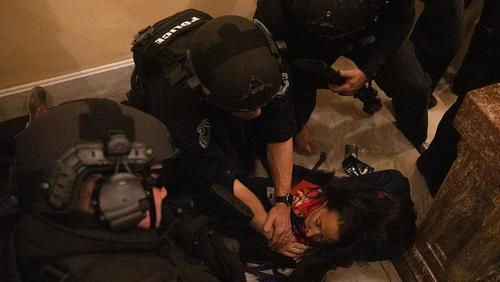 Though the demonstrators were determined to cause "great damage," Sund said, the officer – who was not named – responsible for shooting and killing a demonstrator named Ashli Babbitt has been placed on administrative leave. Their police powers have been suspended "pending the outcome of a joint Metropolitan Police and USCP investigation."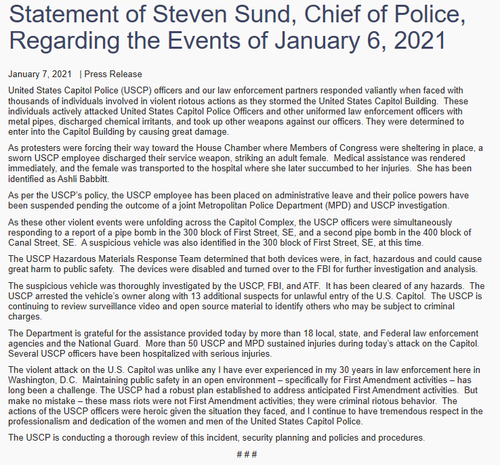 As far as fortifying the Capitol, the Secretary of the Army said Thursday that a seven-foot "non-scalable" wall would be erected around the Capitol for the next 30 days.
Several members of the Administration, including Mick Mulvaney and John Costello (a deputy-level official over at Commerce) have resigned, though no cabinet-level officials have departed the administration yet.
In a statement, Chad Wolf, the Secretary of Homeland Security, also slammed the demonstrators who participated in the short-lived riot in the Capitol.
Already, the number of arrests tied to Wednesday's unrest has risen to 68, according to the chief of the Washington DC Metropolitan police. The acting US AG says some participants will be arrested on Thursday as the investigation is ongoing. Former AG Bill Barr said earlier that Trump had committed a "betrayal of his office and supporters", adding that "orchestrating a mob to pressure Congress is inexcusable."
As talk of Trump's cabinet moving to invoke the 25th Amendment, or talk of Dems trying to impeach him again, Trump responded by promising an "orderly transition" on Jan. 20, though he once again refused to accept the results of the election. "I totally disagree with the outcome of the election, and the facts bear me out," he said.  Should they succeed in impeaching Trump, he wouldn't just be removed from office: he would be barred from ever running again.
While more tech firms – most recently, Canada's Shopify – move to block Trump or Trump-related accounts, critics are demanding that Facebook and Twitter permanently ban Trump from using the platform, after issuing temporary suspensions yesterday.
Tyler Durden
Thu, 01/07/2021 – 13:10