Oil Surges: Here's Why Goldman Is Delighted By The OPEC+ Deal
Oil Surges: Here's Why Goldman Is Delighted By The OPEC+ Deal
While oil initially fluctuated heading into today's OPEC+ summit, and seemed unsure how to trade initially as leaks of the deal emerged, WTI and Brent have since jumped by $2/bbl, trading near session highs and unwinding yesterday's sharp losses.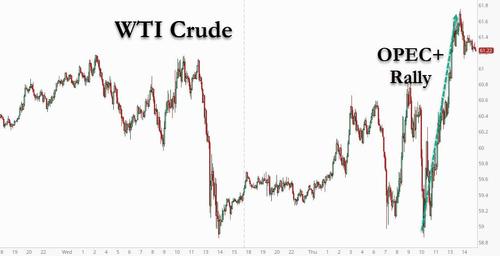 The reason for this, as Goldman's commodity analyst Damien Courvalin explains, is that while OPEC+ agreed to ramp-up production gradually in coming months, and the increase coming a month sooner than Goldman had expected (May vs. June)…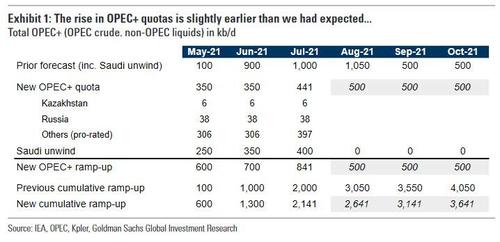 … Courvalin writes that the June and July increases are smaller than the the strategist had assumed…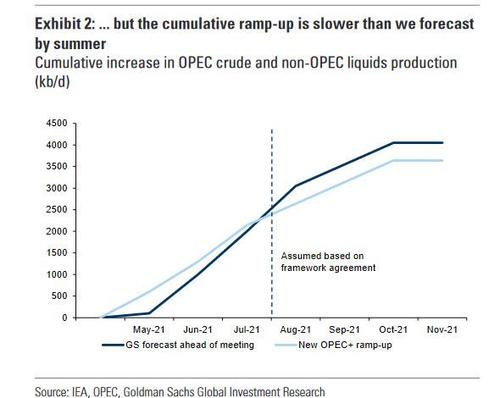 … for a net similar cumulative ramp-up through July.
Meanwhile, and as expected, Saudi Arabia will start reversing its unilateral cut in May by 250 kb/d, consistent with expectations.
Slower supply release aside, a key reason why Goldman is even more bullish now, is because the bank forecasts a larger rebound in oil demand this summer than OPEC and the IEA, requiring an additional 2 mb/d increase in OPEC+ production from July to October. Meanwhile, and even if nudged by the US administration, Courvalin writes that this is still a tall order for a group of producers that has cut drilling by 50% over the past year. Importantly, Goldman expects a normalization in excess inventories by this fall even with such a large ramp-up and, as a result, reiterate its view that the recent sell-off is a transient pullback in a larger oil price rally.
Taking a step back, today's OPEC+ decision points to a "still cautious and orderly ramp-up from OPEC+, still allowing for a tight oil market this market." This, Goldman claims, should reduce the wide distribution of future prices reflected in the current elevated levels of Brent implied volatility (especially puts).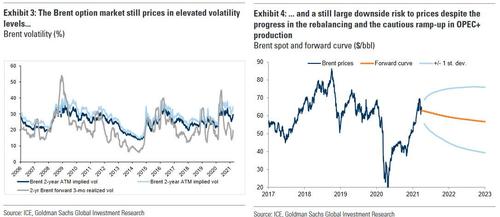 As such, Goldman recommend entering a new trade, selling $55/bbl puts on Dec-22 Brent futures (struck to capture the elevated put skew), noting that "investors who sell puts risk loss of the strike price less the premium received for selling the put."
* * *
Finally, from Bloomberg's Javier Blas, here is his snapshot of three things the market likes and doesn't like about today's OPEC+ deal:
First, the positives:
Signals that Saudi Arabia sees better demand over the summer, despite worries about Europe
Provides certainty that any production hike will be limited
Prince Abdulaziz reassured the market he will turn the ship around if needed with monthly meetings (next meeting is scheduled for April 28)
And here's what the market doesn't like:
OPEC is trying to second-guess what demand will be in June, and with Covid-19 we know from experience that's nearly impossible
Timespreads are selling off, and that means less backwardation, which in turn means fewer investors chasing yield
With everyone boosting production from May to July, I struggle to see better compliance, and actually we may see many countries cheating more
Judging by the jump in oil price, the positives outweigh the negatives.
Tyler Durden
Thu, 04/01/2021 – 15:54