One Bank Asks Its Clients Where Bitcoin Will End 2021
One Bank Asks Its Clients Where Bitcoin Will End 2021
Tyler Durden
Fri, 12/18/2020 – 13:00
By Jim Reid, chief credit strategist at Deutsche Bank
It's hard to ignore as it becomes increasingly mainstream. Yes, Bitcoin has powered through 20k, 21k, 22k and 23k over the last 24 hours before correcting a bit in the European session and is now up over 210% (depending on when you read this!) in 2020.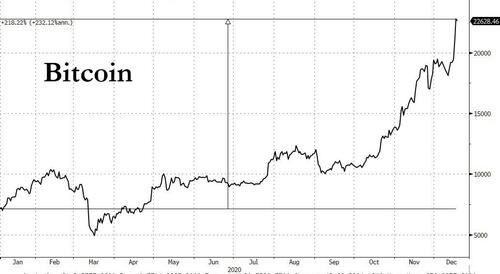 Today's chart of the day shows this against the other big winner of 2020, namely the NYFANG+ index which consists of 10 highly traded tech growth stocks. This is up 98% YTD.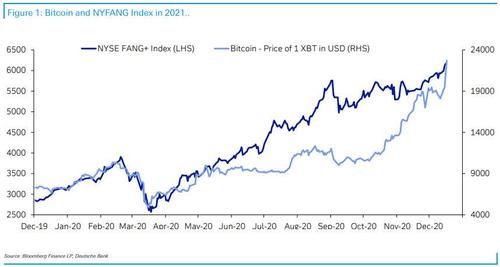 In our latest monthly survey (link here) we didn't ask about Bitcoin but given the increasing attention I thought it was worth one last flash poll for 2020. So in our penultimate CoTD of the year, we ask where you think Bitcoin will end 2021. Click here to take part. Results tomorrow or we may email them later if we get good numbers in the next couple of hours.