Ossoff Declares Victory In Georgia Senate Runoff As Democrats Poised To Control Congress
Ossoff Declares Victory In Georgia Senate Runoff As Democrats Poised To Control Congress
Democrats are poised to control the US Senate after Georgia runoff candidate Jon Ossoff declared victory over Republican David Perdue Wednesday morning, as he enjoyed a lead of around 16,000 votes in a race that many news organizations held off on calling due it being too close.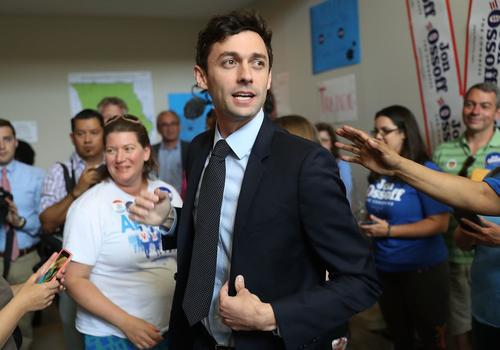 At this point, the outstanding votes in Ossoff's race that are yet to be counted are from heavily Democratic precincts. Yet, with 17,000 military and overseas ballots that can be coujnted as late as Friday, the narrow results will almost certainly spark legal challenges according to Bloomberg.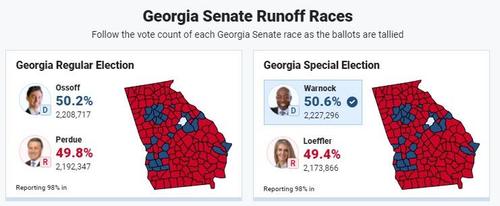 "Whether you were for me or against me, I will be for you in the U.S. Senate," said Ossoff in an online statement.
Earlier in the night, Democratic candidate Raphael Warnock defeated GOP Senator Kelly Loeffler in another runoff.
The narrow results will almost certainly spark legal challenges or recounts that also could delay a final determination of Senate control.

Two Democratic victories in Georgia would narrowly flip control of the Senate to Democrats. The chamber would be split 50-50 between Republicans and the Democratic caucus, with Vice President-elect Kamala Harris casting tie-breaking votes. -Bloomberg
Not only would full control of both Congress give Democratic President-elect Joe Biden a unified government, his nominations would undoubtedly sail through their confirmations. Assuming the race is declared for Ossoff and Warnock, Democrats would have 50 seats on the Senate and the majority with Vice President-elect Kamala Harris serving as the tie-breaking vote.
As Goldman notes, this would give Democrats a very slim margin in both chambers (222 seats in the house, with 5 seats into the majority). They expect full control to spark near-term fiscal stimulus which the bank has 'penciled in' at $600 billion or 2.7% of GDP, followed by "a limited amount of tax increases and spending increases later in the year."
That said, other legislation which would likely require 60 votes to pass in the Senate will hit roadblocks, meaning that bipartisan support would be required to pass legislation related to infrastructure, a minimum wage increase, environmental policies, tech regulation and other issues.
Tyler Durden
Wed, 01/06/2021 – 08:29