PBOC Injects The Most Liquidity In Four Months
PBOC Injects The Most Liquidity In Four Months
China's central bank added the most cash to the financial system via open-market operations since Sept. 22 as companies finalize some tax payments, according to Bloomberg's John Liu.
The People's Bank of China added a net 248 billion yuan of seven-day reverse repurchase agreements, a day after a similar move involving 278 billion yuan, which in turn followed 75 billion yuan.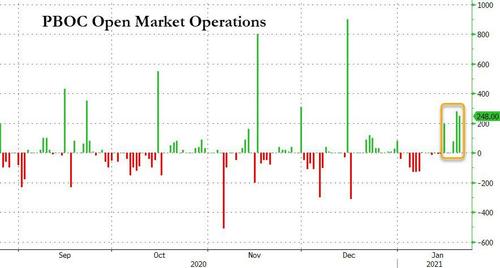 The operation is intended to offset the impact of tax payments and ensure that liquidity in the banking system is reasonably ample, the PBOC said in a statement on Wednesday.
Meanwhile, money markets rates are climbing, with the benchmark seven-day repo rate on Wednesday increasing for the sixth session to 2.55%, in line for the highest since Nov. 13. Chinese companies need to wrap up certain tax payments for last quarter, such as corporate income taxes.
"The big injection today will help banks soothe liquidity tightness caused by the tax payments," said Xing Zhaopeng, an economist at Australia & New Zealand Banking Group.
"We estimate the size of tax payments to be about 700 billion yuan, and the impact will last three to four days from January 19 to 22."
The yield on government bonds due in a decade fell as much as 2 basis points before trading little changed at 3.16%.
Tyler Durden
Wed, 01/20/2021 – 22:01