"Plague Island": Media Uses Xenophobic Anti-British Cartoon To Depict COVID
"Plague Island": Media Uses Xenophobic Anti-British Cartoon To Depict COVID
Authored by Paul Joseph Watson via Summit News,
Despite condemning President Trump for calling COVID-19 the "Chinese virus," foreign media outlets are using a xenophobic anti-British cartoon to depict the virus while referring to the UK as "plague island."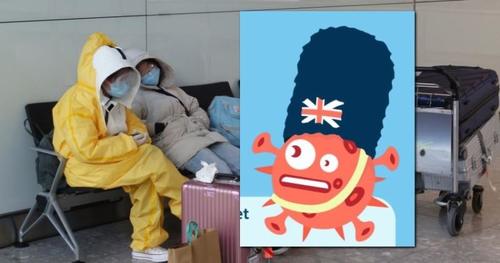 The anti-British sentiment was triggered as a result of dozens of countries closing their borders to Brits in response to a new "mutant" strain of the virus being discovered in the UK.
Such measures were taken despite the fact that the "new" strain was in Brazil as far back as eight months ago and is already circulating the world.
While the media denounced President Trump and others as "racist" for calling the virus the "Chinese virus" or the "Wuhan virus" in line with its origins, apparently demeaning Brits on the same premise is perfectly acceptable.
Media: Trump is racist for calling it the "Chinese virus."

Also media: PLAGUE ISLAND BRITAIN! pic.twitter.com/xyy7enLAUB

— Paul Joseph Watson (@PrisonPlanet) December 23, 2020
Indeed, many of the same people who chastised others as bigoted for referring to the virus in such a way are responsible for "plague island" trending repeatedly on social media in recent days.
Innumerable left-wing outlets like the Guardian also appear to be relishing the opportunity to refer to the UK as something out of a horror movie, which is politically expedient given that Brexit negotiations with the EU are at a crucial stage.
Now foreign media outlets have jumped on the bandwagon, with German publications depicting COVID as a virus particle wearing a beefeater hat emblazoned with a Union Jack.
But remember, if you dare talk about bat soup or call it the "China virus," you're a despicable racist.
German media illustrating stories about the new coronavirus strain with this image. But remember, you can't say "Wuhan virus". 🙄 pic.twitter.com/3qViy2uuHa

— Jack Montgomery (@JackBMontgomery) December 23, 2020
*  *  *
New limited edition merch now available! Click here. In the age of mass Silicon Valley censorship It is crucial that we stay in touch. I need you to sign up for my free newsletter here. Support my sponsor – Turbo Force – a supercharged boost of clean energy without the comedown. Also, I urgently need your financial support here.
Tyler Durden
Fri, 12/25/2020 – 07:00