Pot-Smoking White House Staffers Punished For Past Use Despite Assurances
Pot-Smoking White House Staffers Punished For Past Use Despite Assurances
Dozens of White House staffers have been suspended, relocated, or asked to resign over past marijuana use, despite initial indications from transition officials that recreational use of cannabis would not be a disqualifying factor, according to the Daily Beast, citing three anonymous sources.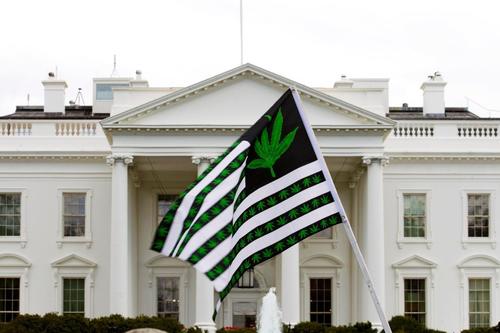 The policy has even affected staffers whose marijuana use was exclusive to one of the 14 states—and the District of Columbia—where cannabis is legal. Sources familiar with the matter also said a number of young staffers were either put on probation or canned because they revealed past marijuana use in an official document they filled out as part of the lengthy background check for a position in the Biden White House. –Daily Beast
Staffers were initially told by transition higher-ups that the administration would likely overlook past marijuana use, only to later be asked for their resignation.
"There were one-on-one calls with individual affected staffers—rather, ex-staffers," one former White House staffer told the Beast. "I was asked to resign."
"Nothing was ever explained" on the calls led by White House Director of Management and Administration, Anne Filipic. "The policies were never explained, the threshold for what was excusable and what was inexcusable was never explained."
The news comes after a February report from NBC News that the White House would waive the requirement that all potential appointees in the Executive Office obtain "top secret" clearance.
The rules about past marijuana use and eligibility for the clearance vary, depending on the agency: For the FBI, an applicant can't have used marijuana in the past three years; at the NSA, it's only one. The White House, however, largely calls its own shots, and officials at the time told NBC News that as long as past use was "limited" and the candidate wasn't pursuing a position that required a security clearance, past use may be excused. –Daily Beast
this is so fuckin funny pic.twitter.com/d0MAT4s8yc

— Trey Smith (@SlimiHendrix) March 19, 2021
Kamala Harris marching the young staffers who smoked weed out of the White House straight to Gitmo pic.twitter.com/H8lTQjPb3x

— Caleb Hull (@CalebJHull) March 19, 2021
What about Kamala?
In February, 2019, Kamala was trying to look cool on The Breakfast Club – where she was asked by host Charlamagne Tha God whether she ever smoked pot, to which the now-Vice President replied: "I have. And I inhaled – I did inhale. It was a long time ago. But, yes."
Kamala did inhale.
Others went to jail. pic.twitter.com/D7GwQBandp

— Tom John – 🌎NoH8 (@tomjohn266) November 3, 2020
When reached for comment, a White House spokesperson disputed the number of affected staff, but said that the Biden administration is "committed to bringing the best people into government—especially the young people whose commitment to public service can deepen in these positions."
"The White House's policy will maintain the absolute highest standards for service in government that the president expects from his administration, while acknowledging the reality that state and local marijuana laws have changed significantly across the country in recent years," the spokesperson added. "This decision was made following intensive consultation with career security officials and will effectively protect our national security while modernizing policies to ensure that talented and otherwise well-qualified applicants with limited marijuana use will not be barred from serving the American people."
The president, meanwhile, is the final authority on who can receive a security clearance – meaning he has the power to keep promises made to his own staff whose dream jobs were just derailed.
One thing I find genuinely admirable about Joe Biden is that with his son Hunter he understands that a punitive approach to drug use is harmful and counterproductive. But it's hard to square that with his hardline war on drugs position for everyone else. https://t.co/vDRFRbf0VM

— Jeet Heer (@HeerJeet) March 19, 2021
Tyler Durden
Fri, 03/19/2021 – 10:55