Pound Spikes As London Makes Last-Ditch Push For Deal
Pound Spikes As London Makes Last-Ditch Push For Deal
Boris Johnson is reportedly making yet another in what seems like a never-ending string of "last ditch" efforts to try and cement a new trade deal with the EU27, with reports that the British are willing to compromise on fisheries access for European fishermen.
The UK is reportedly prepared to allow EU boats to keep 2/3rds of their catch.
Lord David Frost will reportedly remain in Brussels, for now, at least, to continue talks with his European counterparts.
Meanwhile, as a growing chorus of opposition voices call on the PM to kick the can and push for an extension of the transition period, BoJo is once again insisting that the deadline is midnight on Dec. 31, and that will  not change, whether a deal is reached, or not.
The 2/3rds number would be far more generous than the latest EU offer of 25% on Friday.
The pound spiked 0.5% on the news, while FTSE futures turned lower, as investors shift from pessimism to optimism related to the prospects for a last-minute deal that averts a complete break.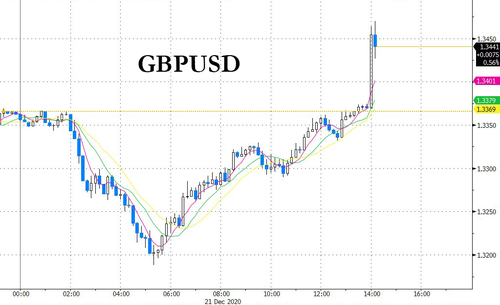 Which is particularly surprising considering that many of the UK's closest neighbors are barring travelers from the UK over this new "mutated" virus.
Tyler Durden
Mon, 12/21/2020 – 14:27