Preview Of Biden's Executive Orders For Next Week
Preview Of Biden's Executive Orders For Next Week
Next week President Biden will continue his blitz of executive actions after signing 17 such directives in his first week covering a range of issues – much of which were aimed at undoing various Trump initiatives ranging from immigration to climate policy.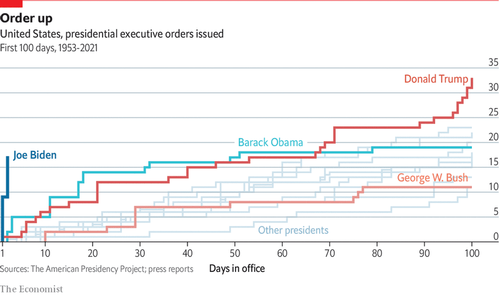 …whether he knows what he's signing or not for 'his' agenda.
#JoeBiden : "I don't know what I'm signing…"
🙄🙄 pic.twitter.com/IA1GTFlYHN

— .𝓑𝓲𝓭𝓲𝓼𝓱𝓪 (@bidishalolo) January 23, 2021
For his second week in office, Biden plans on signing another flurry of executive actions, going further on climate and immigration, while also focusing on health care and other issues. Each day will have a theme, according to The Hill.
Monday will be 'Buy American' day, during which Biden will sign an executive order directing agencies to strengthen requirements that goods and services are purchased from American businesses and workers. Biden pledged on the campaign trail to make a $400 billion investment during his first term towards purchasing products made by American workers, as well as tighten loopholes and waivers allowing federal agencies to buy products made overseas.
As The Hill notes, former President Trump signed a 'buy-American-and-hire-American' executive order during his first few months in office, aimed at restricting the flow of certain visa-holders, while boosting domestic wages.
Tuesday is 'Equity' day, which will include a 'broad range of executive orders' related to racial equity.
The president is likely to establish a policing commission and reinstate Obama-era rules on the transfer of military-style equipment to local law enforcement. He is also expected to sign an executive order directing the Department of Justice to improve prison conditions and begin to eliminate the use of private prisons.

Other executive actions lined up for Tuesday include a memorandum directing agencies to strengthen engagement with Native American tribes, a memo ordering the Department of Housing and Urban Development to promote equality in housing, and an order disavowing discrimination against the Asian American and Pacific Islander community. –The Hill
Other Tuesday actions which have yet to be finalized may involve immigration, and reversing a ban on transgender troops serving on active duty.
Wednesday will be 'Climate' day, where Biden will announce plans for a US-hosted summit to be held on Earth Day, and likely sign an executive order to "combat climate change domestically and elevates climate change as a national security priority," as well as reestablish the Presidential Council of Advisors on Science and Technology. The move comes after last week's executive action to rejoin the Paris Climate Agreement, while revoking a key permit for the Keystone XL pipeline.
Thursday is 'Health Care' day – during which Biden will likely rescind the so-called Mexico City policy which bans the use of US funds for foreign orgs which endorse or provide abortions.
The policy, described as a "global gag rule" by reproductive health advocates, was first instated by then-President Reagan, and has been repeatedly rescinded by Democratic presidents and reinstated by Republican presidents in the years since.

Biden will also order a review of the Trump administration's controversial changes to the Title X family planning program, which required family planning providers participating in the program to stop providing or promoting abortions to remain eligible for funding. 

The president is also slated to sign an executive order aimed at strengthening Medicaid and initiating an open enrollment period under the Affordable Care Act. –The Hill
And finally, Friday will be 'Immigration' day – on which Biden will expand some of the immigration-related actions he took on his first day in office. According to The Hill, one of the orders will likely be related to regional migration and border processing, and will rescind Trump-era policies surrounding the asylum program. It will also reportedly contain strategies to address the root causes of Central American migration to the United States. 
Biden will also sign an order establishing a task force to reunify migrant families separated during the Trump administration. Biden himself faced criticism during the Democratic primaries for the Obama administration's deportation policies, but the Trump administration implemented an official zero tolerance policy that led to the separation of thousands of migrant families.

The president will also sign an order directing an immediate review of the public charge rule "and other actions to remove barriers and restore trust in the legal immigration system, including improving the naturalization process."

A fourth order, establishing principles to guide the implementation of the Refugee Admission Program, is tentatively on the schedule for Friday but could be scrapped or changed, according to the memo. –The Hill
And there you have it. We can't help but wonder if the press will be herded out of the room if they dare ask Biden to discuss the sweeping changes he's making?
Tyler Durden
Sun, 01/24/2021 – 18:20