Queensland Cops Pay Home Visit To Author Who Bragged On Twitter About COVID-Violating Jog
Queensland Cops Pay Home Visit To Author Who Bragged On Twitter About COVID-Violating Jog
Authored by Paul Joseph Watson via Summit News,
Queensland Police in Australia responded to a man who bragged on Twitter about going on a jog that violated lockdown rules by paying him a home visit.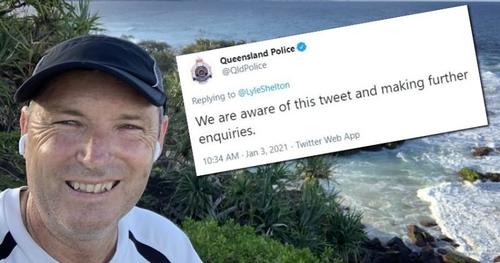 "Sneaky run across the border and back. Avoided the CCP virus police," tweeted author Lyle Shelton along with some pictures of a beach.
Sneaky run across the border and back. Avoided the CCP virus 🦠 police. pic.twitter.com/rWdOd1SUfj

— Lyle Shelton (@LyleShelton) January 2, 2021
"He was referring to his Saturday run from Coolangatta on the Gold Coast, around Point Danger on the interstate border, and into Tweed Heads in NSW, before coming back," reports the Brisbane Times.
The next day, Queensland Police responded by commenting on Shelton's thread, "We are aware of this tweet and making further enquiries."
We are aware of this tweet and making further enquiries.

— Queensland Police (@QldPolice) January 3, 2021
Under Australia's draconian lockdown rules, people are barred from crossing state borders unless they have an "essential" reason.
However, it subsequently emerged that Shelton, who is also a conservative political activist, has a G-Pass (General declaration pass) which allows him to cross the border without having to quarantine.
Despite this, Queensland Police Commissioner Katarina Carroll blamed Shelton for wasting police resources after they investigated and cleared him of any wrongdoing.
Shelton said that his tweet was a joke and questioned why Twitter didn't react the same way when thousands of Black Lives Matter demonstrators gathered.
"It seems strange to me there has been so much interest in one person's jog along a beach track, but little interest when 10,000 people were on the streets of Brisbane at the height of the pandemic," he said.
Shelton also revealed that officers came directly to his home to quiz him about his jog.
"They wanted to know if I had been in hotspot, I hadn't … they were here for two minutes," he said.
"I think there are people on social media who have other agendas … I think this was a case of haters on Twitter amping it up for their own purposes," he added.
*  *  *
New limited edition merch now available! Click here. In the age of mass Silicon Valley censorship It is crucial that we stay in touch. I need you to sign up for my free newsletter here. Support my sponsor – Turbo Force – a supercharged boost of clean energy without the comedown. Also, I urgently need your financial support here.
Tyler Durden
Mon, 01/04/2021 – 22:40