Record Big 2Y Treasury Auction Tails, Met With Subpar Demand
Record Big 2Y Treasury Auction Tails, Met With Subpar Demand
It may be the last, holiday-shortened week of the year, but that doesn't mean the US Treasury can take time off from shoving US debt down the throat of anyone who still believes that the US dollar will remain a reserve currency in the near and not too near future, and at 1130am, the Treasury held the first of the day's two auctions, when it sold a record $58BN in 2Y notes.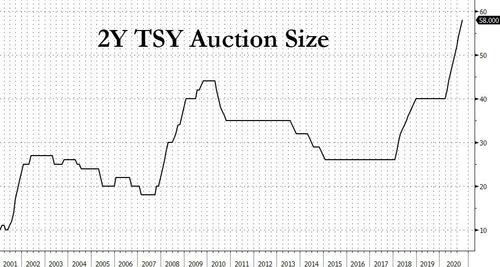 The auction priced at a high yield of 0.137%, 2.8bps below the 0.165% yield last month but a 0.2bps tail to the 0.135% When Issued.
The poor metrics continued with the Bid to Cover, which dropped from 2.712 to 2.453, which was below the 2.52 six auction average.
The only silver lining was the modest increase in Indirect demand, with foreign central banks getting 49.2% of the allotment, up from 46.1% last month, if still below the 51.1% recent average. Finally, with Directs taking down 17.5%, or the highest since April, Dealers were left holding 33.3% of the auction, bonds which they will soon flip back to the Fed as part of the ongoing $80BN/month POMO.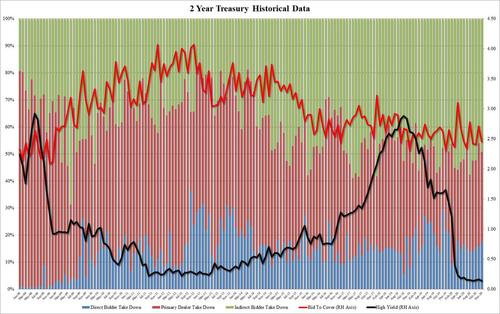 Overall, another record if somewhat sloppy auction to start the truncated weekly issuance which sees today's next auction in 90 minutes, when 5Y paper is sold, and the last auction of the year will take place tomorrow when the Treasury dumps as much 7Y paper as it can.
Tyler Durden
Mon, 12/28/2020 – 11:45