Record Warmth Spreads Across Western Half Of US
Record Warmth Spreads Across Western Half Of US
Several locations across the West and Midwest may experience record high temperatures this weekend, including Boise, Salt Lake City, Phoenix, Denver, Boulder, and Fort Collins.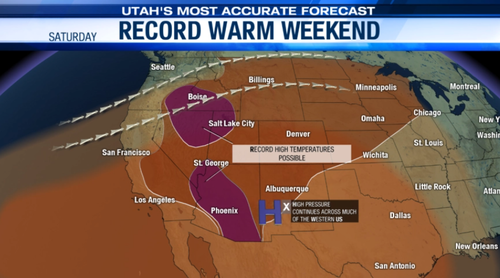 Temperature anomalies for much of the West and Midwest are experiencing above-average conditions this weekend. Temperatures were 10 to 25 degrees above average in some spots. Above-average temperatures will continue through the midpoint of the month. After that, temperatures are expected to be more in line with seasonal averages.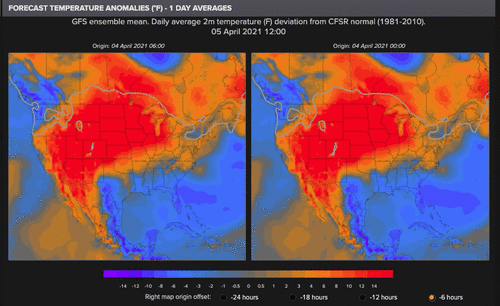 On Sunday, the forecasted high of 81 degrees for Salt Lake City may smash the 132-year record. 
Ahead of the warm shot, readers may recall, in a note titled "April Temperature Anomalies Spike In Central US As Farmers Prepare For Early Spring Planting," we outlined how temperature models suggested warmer weather was ahead and would possibly result in an early spring planting season.
However, with warmer temperatures hovering over the Western and Central US, these conditions support an elevated fire risk as drought conditions persist with high winds and low humidity. 
Since our last drought note titled "Fears Of A "Return Of The 1930s Dust Bowl" Rise As Record Drought Sizzles Southwest," in early March, persistent dry conditions continue for parts of the West, Southwest, and South.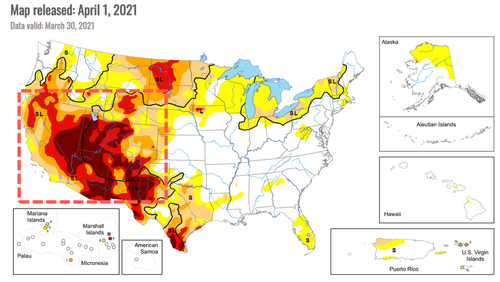 What a wild few months of weather across the US as record low temperatures were set across the country in February – now record-high are being set in April, a testament to the highly volatile climate. 
If weather volatility persists through spring, this could be bad news for farmers who many experience crop losses and add to supply strains that would continue to boost food inflation. 
Tyler Durden
Sun, 04/04/2021 – 17:00