Red Hot: Sacramento House Receives 122 Offers In Two Days 
Red Hot: Sacramento House Receives 122 Offers In Two Days 
The housing boom unleashed by the Federal Reserve during the pandemic was built on historically low mortgage rates (thanks Powell), low inventory, city-dwellers moving to rural areas, and remote-work phenomenon. In the latest installment of the desperate frenzy of buyers fleeing for suburban life in California, one home received 122 offers in just two days. 
Sacramento's FOX40 reports, a home in the Citrus Heights, a suburb of Sacramento, California, was listed for $399,900, and in just two days, received a mindboggling 122 offers.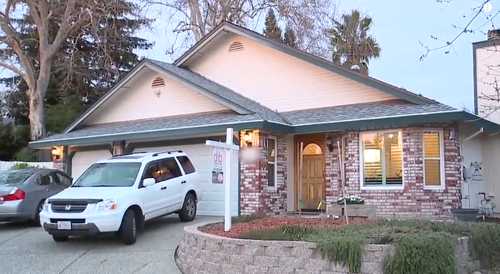 "People would think that it was underpriced. It was not underpriced. It was straight on with the comps," Deb Brittan, the listing agent for the property, told FOX40. "I had hoped, I thought, maybe if we get 20 offers, that would be amazing."
Many of the offers were well above the list price and in the seller's favor. One offer was as high as $500,000. 
Barry and Anita Jackier are the sellers of the house who thought they would receive eight to ten offers. But to their surprise, they severely underestimated the interest they received in such a short span. 
"That's 121 people who didn't get a house. And that's kind of heartbreaking in this market to think that there are so many buyers out there. And if you don't have an agent that understands how to put a strategic offer in on a house and get it accepted, you're just out burning your gas and a lot of emotional turmoil because of the nature of our market currently," Brittan said.
Upon selling the home, Barry and Anita are moving to Idaho, where homes and living costs are more affordable. Many other Californians are doing the same. 
As we noted in the beginning, the Fed's easy money policies during the pandemic have resulted in a housing boom as city-dwellers flee for suburban life. Housing inventory is extremely low, which has unleashed a bidding war between buyers among properties, pushing prices to bubbly territories. US home prices (as measured by the S&P CoreLogic Case-Shiller index of property values) have recently accelerated at the fastest pace in seven years.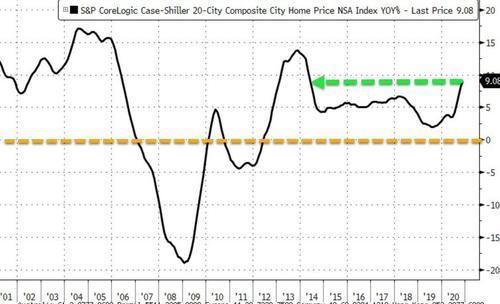 "This suburbanization trend has been slowly occurring since 2017, and we expect it to accelerate with the COVID-19 disruption," Cowen analyst John Kernan wrote. "These results are also corroborated by a shift in homeownership."
The rush to purchase homes in suburbia or rural communities is far from over as America's metro areas are plagued with violent crime, socio-economic challenges, and declining real estate markets. 
With mortgage rates moving higher. How long will the housing boom last? 
Tyler Durden
Mon, 03/29/2021 – 23:20