Remembering Solyndra – A $524 Million Green Energy Failure
Remembering Solyndra – A $524 Million Green Energy Failure
Authored by Adam Andrzejewski via RealClearPolicy,
Considering President Joseph Biden's $2.3 trillion infrastructure plan, Americans should first review the taxpayer money that was spent on projects in 2009 and learn from the ones that were massive failures.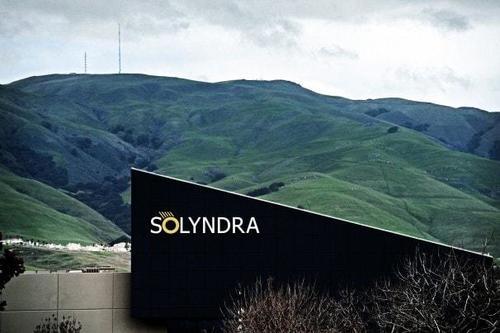 Biden asked Congress to invest $35 billion in green energy leadership to see "technology breakthroughs that address the climate crisis and position America as the global leader in clean energy technology and clean energy jobs," according to the White House fact sheet.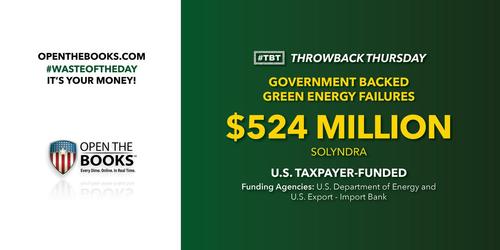 But look as recently as 2009, when Congress passed the the American Recovery and Reinvestment Act during President Barack Obama's administration.
That $831 billion spending package made lots of promises, including to save jobs and create new ones, but waste — and possibly some fraud — tainted the outcomes.
Often referenced as a what-not-to-do in stimulus financing, solar panel start-up Solyndra cost taxpayers $570 million.
The company received $535 million in loans from the 2009 stimulus and a $25 million tax break from California's agency for alternative energy.
Solyndra said it would use the $535 million to invest in generating solar energy.
But a report from the Inspector General's Office later found that the company misled the U.S. Department of Energy in its application and that the department did not manage and approve Solyndra's loan guarantee properly.
In 2011, Solyndra filed for bankruptcy, laid off its 1,100 employees and ended its operations.
About six months before closing shop, the company also received $10.3 million in long-term credit from the U.S. Export-Import Bank for its exports to Belgium.
To prevent a repeat, the American public and Congress should ask questions of Biden's recent proposal, vet the companies and projects, get bipartisan support, and then audit "every dime" of the spending on the projects.
The #WasteOfTheDay is presented by the forensic auditors at OpenTheBooks.com.
Tyler Durden
Thu, 04/15/2021 – 19:50