Russia Reveals Total Number Of Soldiers Killed In Syria, Blasts "Morally Bankrupt" US Policies
Russia Reveals Total Number Of Soldiers Killed In Syria, Blasts "Morally Bankrupt" US Policies
The First Deputy Chairman of the Defense Committee of the State Duma, Andrei Krasov, announced that 112 Russian soldiers were killed during the entirety of the armed conflict in Syria, according to Sputnik Arabic.
The deputy's statements came during a meeting with the State Duma Committee for Health Affairs, during which he said:
"According to recent military data provided by the Russian Ministry of Defense, about 112 soldiers have been killed in Syria since the beginning of the armed conflict."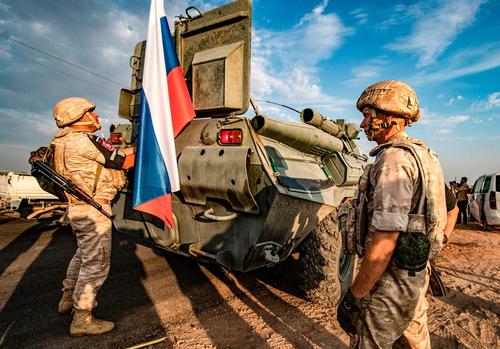 This figure is far lower than the over 260 Russian armed forces deaths put forth by non-state monitoring groups like the anti-Assad Syrian Observatory for Human Rights (SOHR).
The Russian military officially entered the war in Syira on September 30, 2015 and have since established a number of bases across the country, including its main installation at the Hmemim Airport in Latakia.
Among the most prominent field achievements made by the Syrian forces, with the support of Russia, was the lifting of the three-year-long siege on the city of Deir Ezzor, which was imposed on the administrative capital by the Islamic State (ISIS/Daesh).
Furthermore, the Syrian Arab Army was able to retake a large amount of territory in the central part of the country that was occupied by the Islamic State since 2015; this included the ancient city of Palmyra (Tadmur) and the strategic Al-Sha'er Gas Fields. While the Syrian conflict has witnessed a significant decrease in violence since 2015, clashes are still ongoing in the central part of the country, where the Islamic State has reemerged.
"We need to make the Russians pay a price in Syria…" the former Deputy Director of the CIA said in a 2016 interview.
Meanwhile a top Russian diplomat blasted the US continuing 'dirty war' on Syria on Tuesday. 
Russian Ambassador to the UK Andrei Kelin attacked the "morally bankrupt and unacceptable" US and UK sanctions meant to choke Damascus into submission.
My latest: China joins Russia in blasting "illegal" strategy backed by U.S. in Syria war

"In the past 10 years, Syria has been injured by illegal invasion and foreign occupation and maimed by terrorism and unilateral sanctions," @zlj517 saidhttps://t.co/ZJbYD67Qxo pic.twitter.com/uSyc2zMvA4

— 𝕋om 𝕆'ℂonnor (@ShaolinTom) March 16, 2021
"Development in Syria is being hindered not only by the consequences of conflict and COVID pandemic, but also by the illegal unilateral sanctions imposed on Syria by the US, the UK and some of their allies," Amb. Kelin said. 
"These restrictive measures not only put obstacles to the economic recovery, but also prevent essential purchases of pharmaceuticals, medical and construction equipment. This is morally corrupt and unacceptable."
Tyler Durden
Tue, 03/16/2021 – 22:45