Russia Warns US Warships To Stay Far Away From Crimea "For Their Own Good" 
Russia Warns US Warships To Stay Far Away From Crimea "For Their Own Good" 
At a moment the United States appears poised to send its warships near Ukraine as a strong 'deterrent message' against Russian forces built up near the east Ukrainian border, Russia on Tuesday warned that US vessels better stay away from Crimea "for their own good". 
A Kremlin statement further called the new US deployment into the Black Sea a serious "provocation" which serves no other purpose but to test Russia's "strength" and "nerves". 
Russian Deputy Foreign Minister Sergei Ryabkov issued the Tuesday warning as follows: "There is absolutely nothing for American ships to be doing near our shores, this is purely a provocative action. Provocative in the direct sense of the word: they are testing our strength, playing on our nerves. They will not succeed."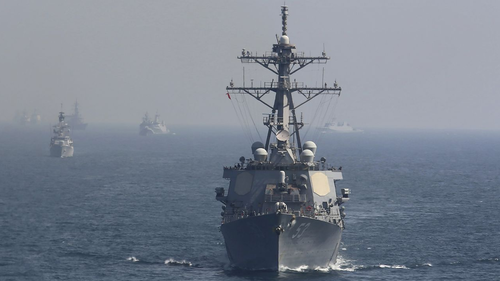 "We warn the United States that it will be better for them to stay far away from Crimea and our Black Sea coast. It will be for their own good," he added.
It was late last week that Turkey's foreign ministry confirmed that it's granted permission for US warships to use the Bosporus and Dardanelles straits to enter the Black Sea. The Pentagon has downplayed the deployment by keeping mostly mum about it, only saying that it's "routine" for US warships to patrol the Black Sea.
The Kremlin has warned that it's Kiev's own actions and initial troop build-up in and near Donbass that is risking "broader war" in the region. Days ago Kremlin spokesman Dmitry Peskov said, "The trend in the behavior of the Ukrainian side creates the risk of a resumption of full-scale military action."
Russia's newest warning that US ships better not come near Crimea likely also have in mind Joe Biden's first words addressing the long-simmering Ukraine crisis issued early in his presidency. He said in a February 26 statement that the US "will never" recognize Russia's claims over Crimea: 
The United States does not and will never recognize Russia's purported annexation of the peninsula, and we will stand with Ukraine against Russia's aggressive acts.  We will continue to work to hold Russia accountable for its abuses and aggression in Ukraine.
He had underscored in the statement that "we reaffirm a simple truth: Crimea is Ukraine."
Meanwhile the Russian rouble continues it's decline as the rhetoric and uncertainty grows hotter…
Russia's rouble sinks as mounting Ukraine tensions add to jitters https://t.co/TcAK3zPzhL

— Financial Times (@FT) April 13, 2021
Russia has held Crimea since 2014 after a popular referendum wherein an overwhelming some 95% of voters backed official union with Russia, however which was deemed 'illegitimate' by the EU, the US, and Western allies – which they continue to call a hostile "annexation". 
Tyler Durden
Tue, 04/13/2021 – 10:40