Second Crude Tanker Explodes Off Saudi Coast In 3 Weeks, "External Source" Blamed
Second Crude Tanker Explodes Off Saudi Coast In 3 Weeks, "External Source" Blamed
Tyler Durden
Mon, 12/14/2020 – 10:30
The Singapore-flagged BW Rhine, a chemical tanker hauling gasoline, suffered an explosion early Monday after being hit by "an external source," said Haifna, a tanker company under the BW Group that owns and operates the vessel.
BW Rhine was "hit from an external source whilst discharging at approximately 00:40 local time on 14 December 2020," AP News said, citing a statement from Haifna, "causing an explosion and subsequent fire onboard."
The incident occurred off Saudi Arabia's port city of Jeddah.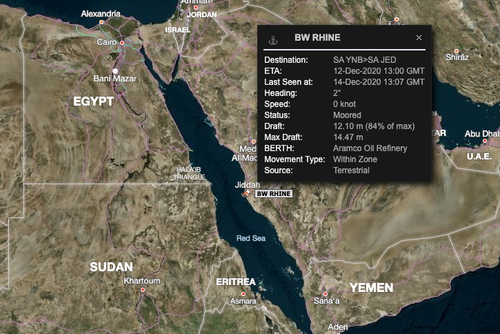 At the time of the incident, the vessel was carrying more than 60,000 metric tons of gasoline from an Aramco refinery at Yanbu. 
Haifna said the explosion caused a fire on board the vessel. It was reported that all 22 sailors exited the ship without injury and hours later, firefighters extinguished the blaze. 
"The Master immediately ceased all discharge operations and enacted emergency procedures onboard."

Hafnia said further "it is possible that some oil has escaped from the vessel, but this has not been confirmed and instrumentation currently indicates that oil levels on board are at the same level as before the incident."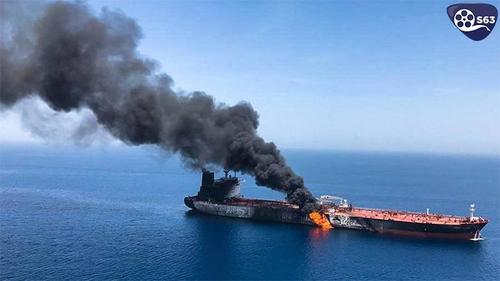 Yemen's Iranian-backed Houthi rebels have been known to deploy sea mines in the Red Sea waters. The body of water is a critical transit zone for global shipping and energy products. 
So far, no one has claimed responsibility for the attack.  
The Islamic Republic comes under immediate suspicion of sponsoring such disruptive attacks on oil transit operations either in the Gulf or Red Sea anytime such incidents occur. This is in part because its elite Islamic Revolutionary Guard Corps (IRGC) has recently vowed to do just that if it perceives Iran or the "Islamic Revolution" is under threat.
Maritime security firm Dryad Global said if Houthis were behind the attack, it "would represent a fundamental shift in both targeting capabilities and intent."
Brent futures are slightly higher, holding over the critical 50-handle following the incident.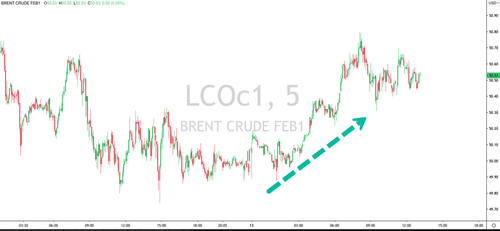 The incident also comes as tensions between the US and Iran have soared in recent weeks. Earlier this month, Tehran's top nuclear scientist was killed in an attack suspected to have been conducted by Israel.