Senate Dems File Ethics Complaint Against Cruz, Hawley For Objecting To Electoral Results
Senate Dems File Ethics Complaint Against Cruz, Hawley For Objecting To Electoral Results
Congressional Democrats – who objected to the electoral results for the last three GOP presidents – have filed an ethics complaint against GOP Senators. Ted Cruz (TX) and Josh Hawley (MO) for objecting to the Electoral College results.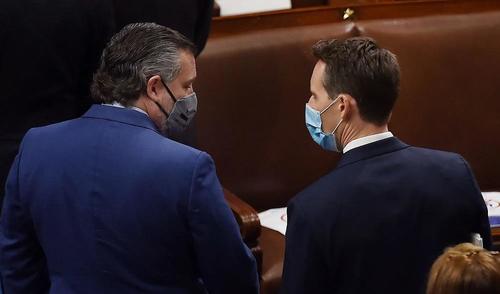 "The Senate Ethics Committee should investigate their conduct to fully understand their role. The actions of which we know demand an investigation and a determination whether disciplinary action is warranted. Until then, a cloud of uncertainty will hang over them and over this body," wrote Democratic Sens. Sheldon Whitehouse (RI), Ron Wyden (OR), Tima Smith (MN), Richard Blumenthal (CT), Mazie Hirono (HI), Tim Kaine (VA) and Sherrod Brown (OH).
The complaint wants the Ethics Committee to investigate whether Cruz and Hawley failed to "[p]ut loyalty to the highest moral principles and to country above loyalty to persons, party, or Government department," or if they engaged in "improper conduct reflecting on the Senate" linked to the January 6 Capitol 'riot.'
The Democratic senators also outlined several questions they believed should be probed as part of an Ethics Committee investigation including if they were in touch with coordinators for the rally, if they encouraged any "insurrectionist" acts or if they "engaged in criminal conduct, or unethical or improper behavior."

"While it was within Senators' rights to object to the electors, the conduct of Senators Cruz and Hawley, and potentially others, went beyond that," they wrote in the letter to Ethics Committee leadership. 

Cruz and Hawley, two potential 2024 presidential contenders, have denounced the mob that breached the Capitol but they've also stood by their decisions to object to the Electoral College results from Arizona and Pennsylvania, respectively. –The Hill
During the counting of electoral votes, Cruz objected to Arizona's results, while Hawley objected to Pennsylvania's results following the Capitol attack, when a group of Trump supporters and at least one prominent member of BLM breached the Capitol building and occupied it for a brief period of time before leaving on their own.
The Democratic Senators are also asking the Ethics Committee to "offer recommendations for strong disciplinary action, including up to expulsion or censure, if warranted by the facts uncovered."
Tyler Durden
Thu, 01/21/2021 – 19:20