Sequoia To Pay Interested Employees In Bitcoin
Sequoia To Pay Interested Employees In Bitcoin
With increasingly more institutions converting some (or in the case of MicroStrategy, most) of their cash equivalents into bitcoin, one key spoke of an all-bitcoin corporate ecosystem remained elusive: actual payment to employees in bitcoin. That changed today when Sequoia Holdings, not the hedge fund but the "employee-owned provider of high-end software development and engineering services centered on improving the analytic, collection, collaboration and sharing of data", announced that it is now giving employees the option to receive a portion of their salary in cryptocurrencies like Bitcoin.
"We're excited to offer the members of our team this new benefit," said T. Richard Stroupe, Jr., co-founder and CEO of Sequoia. "Many of our employees are enthusiastic supporters of cryptocurrency, and we're happy to help them gain exposure to this trillion-dollar asset class."
Under the new program, Sequoia employees may elect to defer a portion of their salary into Bitcoin, Bitcoin Cash, or the Ethereum platform's ether. The company is partnering with a third-party payroll processing firm to withhold taxes and convert the remainder into cryptocurrency, which will be held in a digital wallet administered by the payroll processor.
The mechanism is similar to how an employee would defer a portion of his or her salary toward a 401(k) retirement savings plan. In this case, though, the deferral is after tax.
Russell Okung, an offensive tackle for the Carolina Panthers of the National Football League, recently made headlines for becoming the first professional football player to receive a portion of his salary in Bitcoin, in much the same way that Sequoia employees may elect to.
"Cryptocurrency has emerged as an important alternative to traditional investments like stocks and bonds," Stroupe said. "We're proud to give the members of our team the ability to easily invest in cryptocurrency and build their savings."
Of course, any employees who chose to be paid in bitcoin are urged to have nerves of steel because while the cryptocurrency has exploded in the past year, it has suffered a sharp drop in the past few days, which for those with little patience could serve to quickly tame any enthusiasm of continued payment in the cryptocurrency.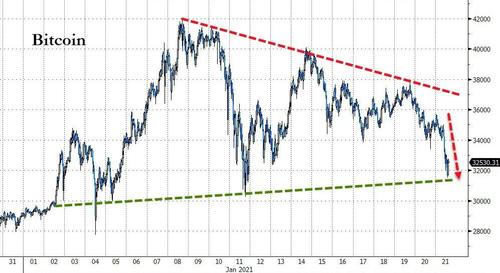 Tyler Durden
Thu, 01/21/2021 – 20:20