"Sometimes They Ring A Bell At The Top": Why BofA Expects A 5-10% Q1 Market Correction
"Sometimes They Ring A Bell At The Top": Why BofA Expects A 5-10% Q1 Market Correction
In a report published on Tuesday by Bank of America Research Investment Committee, the bank – whose year-end S&P price target of 3,800 is among the lowest on Wall Street – writes that it expects "a 5-10% market correction in Q1" as a range of market unknowns "coincide with rising market exuberance" which however the bank believes "would present a good buying opportunity in a broader bull market."
While the topic of record market euphoria is hardly new (with recent warnings from Goldman, Citi, JPMorgan and others) and is one we have covered repeatedly in recent weeks, BofA joins the fray and notes that a record 92% of BofA Global Research proprietary indicators are flashing bullish or neutral signals.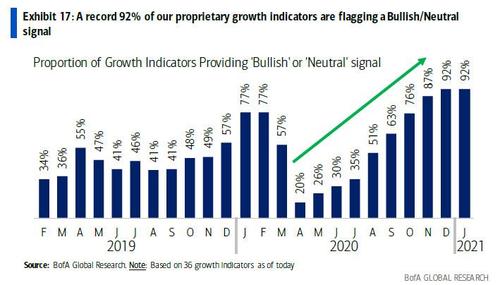 Among the pillars of this unprecedented bullish sentiment is the market's pricing in of perfection on the policy front (maximal Fed accommodation, smooth fiscal passage of $1.9tn and more, and a steady vaccine rollout) while improvement from economic data may already be "as good as it gets". Of note, BofA's Bull & Bear Indicator at 7.5 is approaching an 8.0 sell signal, as is the BofA Sell-Side Indicator.
It's not just fundamentals that are precarious: BofA's Chief Equity Technical Strategist, Steve Suttmeier, points to several tactical risks as the S&P 500 approaches its post-2020 election breakout targets in the 3830-3885 range. He notes that while the core view remains bullish, complacent put/call ratios, "a lack of positive confirmation from breadth indicators and challenging February seasonality pose near-term risks."
To these bearish considerations, the BofA RIC report – which jokes that "sometimes they do ring a bell at the top"- adds three more:
First, a cyclical peak in equity market issuance seems likely in the first half of 2021. BofA notes that "we have already eclipsed the prior record in equity issuance from the dot-com bubble and we note that after the last two peaks, S&P 500 PE multiples dropped" (Exhibit 18). At the same time, for the past two years, the number of unprofitable IPOs has hovered near 80%. This means that "US investors have not been asked to buy this many new, unprofitable companies since the year 2000 (Exhibit 19)."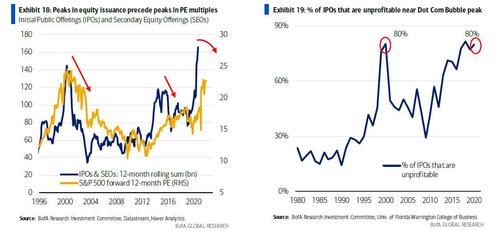 Second, the "incredible rally" in small cap stocks in recent months has been a strong bullish signal for the cycle, and on average small-cap recoveries last 10 years. However, as BofA warns, thus far the rally has not been confirmed by a rebound in value vs. growth.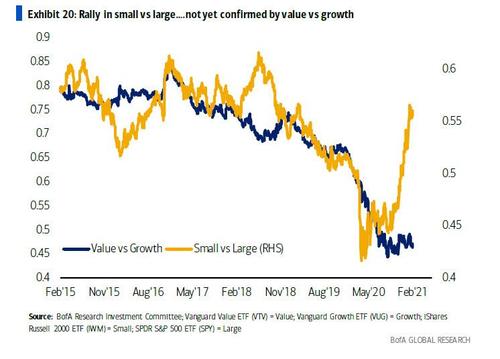 Finally, the bank cautions that of the global firms that do offer earnings guidance, a record number have revised EPS expectations higher relative to downgrades over the last six months, surpassing the surges in 2004 and 2009. And while actual earnings growth may not peak until later this year, the stock market is always forward-looking.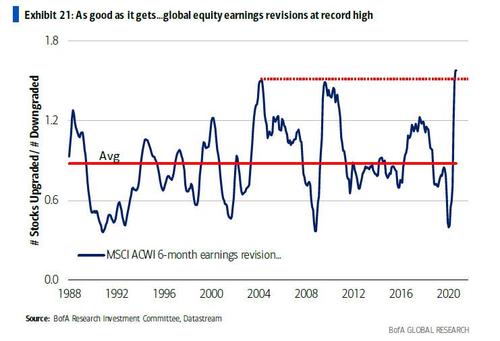 In other words, stocks are now priced to perfection – something we noted last week when we pointed out the market's "perverse" reaction to companies beating consensus expectations by dragging their stock price lower – and even the smallest exogenous shock which resets said expectations could lead to a cascade of selling.
Tyler Durden
Tue, 02/09/2021 – 14:38