South Korean Warship Now Patrolling Persian Gulf After Iran Seized Tanker
South Korean Warship Now Patrolling Persian Gulf After Iran Seized Tanker
Authored by Dave DeCamp via AntiWar.com,
A South Korean warship sailed into the Persian Gulf on Tuesday after Iran seized a South Korean-flagged tanker in the waters.
South Korea's defense ministry said the destroyer Choi Young was operating near the Strait of Hormuz. "It is carrying out missions to ensure the safety of our nationals," South Korean Defense Ministry spokesperson Boo Seung Chan said of the destroyer.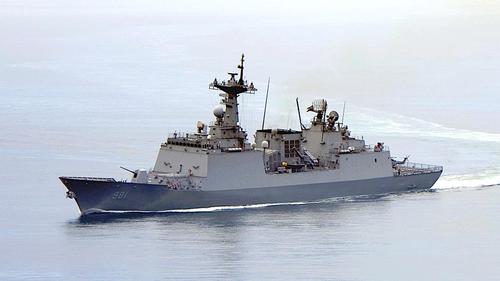 South Korea has approximately 300 members of an anti-piracy unit that have been operating in the region since last year and are reportedly on board the Choi Young destroyer.
According to The Drive, among its weapons systems include the following: 
The primary armament on these ships are Mk 41 Vertical Launch System (VLS) arrays, with each of the destroyers having a total of 64 cells. These can be loaded with a mixture of U.S.-made Standard Missile 2 Block IIIA surface-to-air missiles or South Korean-designed Hyunmoo-3 land-attack cruise missiles, as well as the Korean Anti-Submarine Rocket (K-ASROC), also known as the Red Shark, an anti-submarine weapon that has a homing torpedo as its warhead. We don't know what the Choi Young's exact loadout is on this deployment.
Officials in Seoul insist that the situation with Iran will be resolved diplomatically, despite the deployment of the warship.
South Korea is sending a delegation to Iran to negotiate the release of the tanker ahead of a planned visit to Tehran next week.
Iranian media first reported the seizure of the South Korean tanker Hankuk Chemi on Monday. The ship was carrying about 7,200 tons of chemicals and sailing from Saudi Arabia to the UAE.
Iranian officials said the ship was seized for violating environmental protocols and polluting the waters of the Gulf, but some suspect it is related to the $7 billion of Iranian funds South Korea has frozen due to US sanctions.
Tyler Durden
Wed, 01/06/2021 – 22:50