Soybean Prices Fade From 6-1/2-Year High As Argentine Strike Ends
Soybean Prices Fade From 6-1/2-Year High As Argentine Strike Ends
On Wednesday, Chicago Board of Trade soybean prices flirted with a 6-1/2-year high on tight global supply as investors shrugged off a deal between Argentine soy crushers and oilseed workers. 
On late Tuesday night, Argentina's soy crushing companies signed an agreement with oilseed worker unions, ending the two-week strike over wages that halted all exports of soybeans from the South American country, according to Reuters. 
"An agreement was reached with the oilseed workers' unions in a meeting held at the Ministry of Labor, to lift the strike that had paralyzed port terminals and the agro-industrial complex," Argentina's CIARA soy crushing chamber said in a statement.
CBoT soybean futures have been on a tear in the last couple of weeks, jumping more than 13% on supply concerns due to the Argentinean strike. Now with a deal, prices are beginning to fade the $13 per bushel line.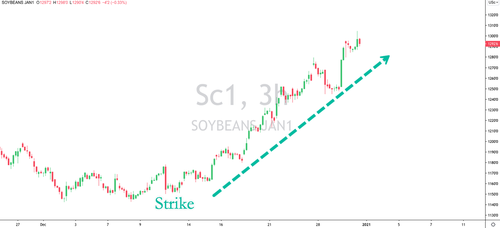 By comparison, CBoT soybean futures were trading around $9.40 per bushel when the U.S.-China Phase 1 trade deal was signed in mid-January. Now prices of beans are approximately 45% higher, hovering a little under $13 per bushel, or at six-year highs.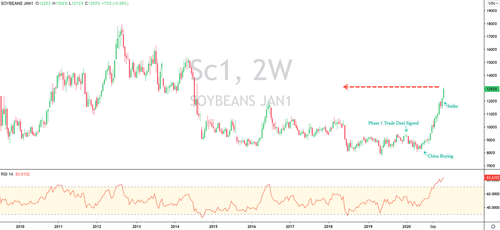 The meteoric rise in soybean prices was triggered by China's strong demand this past summer when prices were trading at multi-year lows. 
However, in late November, trade sources told Reuters that Chinese soybean importers and processors are preparing to cancel deals signed with U.S. firms for December and January shipments. 
The sources explained that crushing margins have collapsed following an exponential rise in bean prices on Chicago futures.
Tyler Durden
Wed, 12/30/2020 – 19:20