SPAC Boom Upends Wall Street League Tables, Sparks Best Quarter For Dealmaking Since 1980
SPAC Boom Upends Wall Street League Tables, Sparks Best Quarter For Dealmaking Since 1980
Just as an army of sell-side capital markets analysts are raising their year-end estimates for SPX (now north of 4k) as we head into April, historically the most bullish month, investment banks like Goldman are already starting to revisit their projections for the SPAC boom dealmaking frenzy (which has seen staggering sums raised on little more than projections in record time).
Thanks to the boom (which has emiserated homebound IBD analysts at Goldman while chagrining the SEC (which is reportedly grilling banks about their deal-marketing tactics while warning individual investors to tread carefully) global dealmaking activity had its strongest start to a year in 4 decades.
According to data from Refinitiv, deals worth $1.3 trillion were struck during the first three months of 2021 through March 30. That's the highest number, by Refinitiv's tally, since at least 1980 – topping even the heady levels seen during the dotcom boom. As valuations on everything from stocks to trading cards and NFTs have skyrocketed over the last year, dealmaking has seen a comparable rebound since the early days of March 2020, when volume suddenly dropped off a cliff, according to the FT.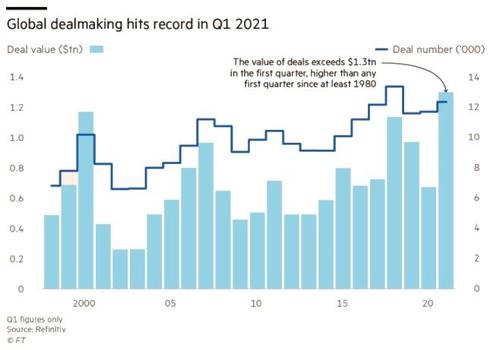 Source: FT
The US, largely seen as the epicenter of the SPAC boom, though the trend has exploded globally as firms search across industries and geographical zones for strong prospects, generated the largest share of dealmaking volume, which increased 160% in Q12021 vs. Q12020.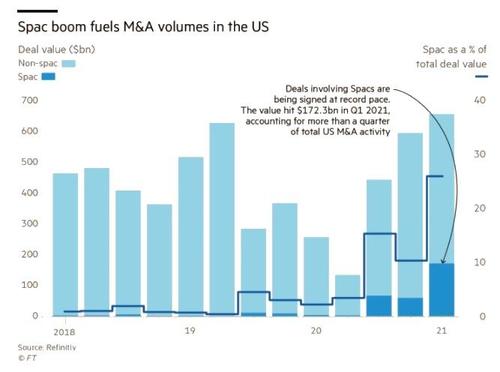 Source: FT
SPAC's record 2020 marked a stunning 5x increase from 2019's prior record high, which itself was up 44% from 2018. But in addition to the rising numbers, 2019 and 2020 were the years when SPACs first drew media attention, then started their ascent in the financial press.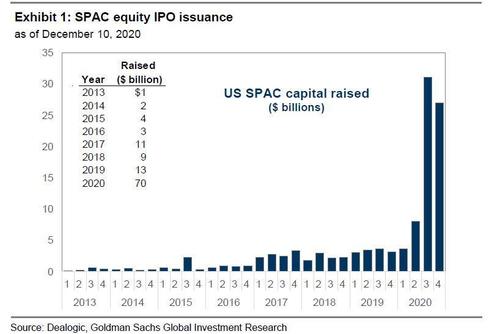 In Goldman's view, there are three reasons why 2020 has been the year of the SPAC:
SPAC sponsors shifted their focus from Value to Growth both in terms of completed acquisitions and new capital raising. Between 2010 and 2019, 53% of SPAC acquisitions were in the Industrials, Financials and Energy sectors while 33% were in Info Tech and Health Care. In contrast, 68% of the de-SPACs completed in 2020 were in the fast-growing Info Tech, Consumer Discretionary and Health Care (mostly in BioPharma) sectors while just 24% were in Industrials, Financials and Energy. Investors are firmly in a growth mindset and SPAC sponsors targeting purchases in growth industries have had success raising capital. Fully 53% of 2020 SPAC IPOs are seeking mergers in Tech, Consumer Discretionary, or Health Care.

The acceleration in retail trading activity has increased investor appetite for non-traditional and early-stage businesses. SPACs offer an alternative route to the public markets for firms, including those that are early-stage or in businesses that lack many publically-traded comparables such as green tech, sports betting or cannabis. Lockdowns associated with the pandemic have prompted a surge in retail trading and demand for highly-volatile shares in firms with perceived hyper-growth prospects. Anecdotal evidence of heavy retail trading coincided with the de-SPAC purchases of electric vehicle and sports betting firms (e.g. FSR, DKNG).
SPACs have low opportunity cost for investors when policy rates are near zero. Cash yields next to nothing and under the Fed's average inflation targeting (AIT) regime, a hike is unlikely during the next three years (the Fed will likely be on hold until 2024). Investors in a SPAC receive a de minimis yield while waiting for the sponsor to identify a potential target and then have a  put option to redeem their shares if they do not like the potential acquisition. Of course, there is an opportunity cost of not owning equities given the 16% YTD return of the S&P 500 and our forecast of a 16% return next year. But SPACs can be a cash substitute when fed funds are at the lower bound. The focus on growth industries also means that SPACs are long duration assets that benefit from low long-term interest rates.

As Goldman's Kostin predicted last year, SPAC dealmaking activity has accelerated, with SPACs raised more than $100 billion in the first three months of the year, equivalent to more than 2/3rds of money raised in all US listings, according to Bloomberg.
"The rebound from a year ago is more dramatic than anything we've ever seen in M&A recovery – full stop," said Cary Kochman, co-head of global mergers and acquisitions at Citi. "It is just unprecedented."
With Treasury yields continuing their steady creep higher, with the 2% threshold – the level at which JPM and others believe the equity market might stand up and take notice – looming on the horizon, investment banks have also just wrapped up what's believed to have been their most lucrative quarter in 20 years, as they generated a total $37 billion in fees. Of course, the collapse of Greensill and Archegos is expected to represent a major hit to the bottom lines of a couple of banks. But there's plenty of padding to absorb the hits.
And as SPACs target bigger and bigger targets (with the help of institutional capital), the boom is expected to continue, at least in the near term.
In February, Tesla rival Lucid Motors said it would go public in a $24 billion merger with one of the blank-check companies (as SPACs are often called) controlled by Michael Klein, a veteran dealmaker who has become a major player in the SPAC boom. This month online broker eToro announced a $10 billion transaction to go public with a SPAC set up by banking tycoon Betsy Cohen. Another banker claimed this is the biggest banks have ever been. "It's the busiest I've ever known it," said Farah O'Brien, a private equity and M&A partner at Latham & Watkins. "There's a ton of capital that is desperately trying to find a home. I wouldn't say there's caution in the market at all."
SPACs were once considered kind of shady on Wall Street, meaning that the top-tier banks largely avoided the business until recently. Because of this, many banks have to quickly build out their expertise in a previously niche market.
With this in mind, perhaps it's no surprise that the SPAC boom has upended Wall Street's dealmaking league tables. Cantor Fitzgerald LP, long one of the top SPAC underwriters, has been the biggest beneficiary of the boom and ended the first quarter as the No. 10 adviser on IPOs globally. The boutique, which hasn't seen a ranking this high for any full year in the past decade, took home an astounding 99% of this year's deal credit from blank-check work, according to data compiled by Bloomberg show. Without the SPAC deals, Cantor would be 155 places lower, according to Bloomberg.
On the flip side, Switzerland's UBS and four Asian investment banks (China International Capital Corp., Citic Securities Co., China Securities Co. and Sinolink Securities) all dropped out of the global top 10.
After raising money from investors, SPACs have 2 years to find and finish a deal to take a private company public in a process known as the reverse-IPO. If they can't close a deal in time, the money must be given back. Some have pointed out that this scramble for expeditious deals has left few quality pickings for vehicles just coming to market.
As investors around the world try to parse the risks associated with this latest boom (according to some, it has been seemingly designed to enrich big-name fund sponsors while saddling retail investors with big losses), the FT reminded readers of the true roots of this controversial new trend: "the dealmaking revival is among the consequences of a Federal Reserve stimulus package in April, which included $2.3 trillion in loans and support for the $1.2 trillion junk bond market." That, coupled with the Fed's unrelenting balance sheet expansion and interest rates expected to remain on hold through 2023, have generated massive profits for the wealthy and institutional investors, who are now taking profits at the expense of the reinvigorated retail trading army.
Tyler Durden
Mon, 04/05/2021 – 05:15