Stagflation Strikes As PMIs Signal Slowing Production, Soaring Costs
Stagflation Strikes As PMIs Signal Slowing Production, Soaring Costs
Despite ongoing weakness in 'hard' data, preliminary US 'soft' survey data from Markit showed that both the Manufacturing and Services side of the economy improved (albeit marginally) in March.
The Services PMI registered 60.0 in March, up from 59.8 in February to signal the strongest service sector output expansion since July 2014.

The Manufacturing PMI printed 59 in March, up from 58.6 in February, just below January's cycle high.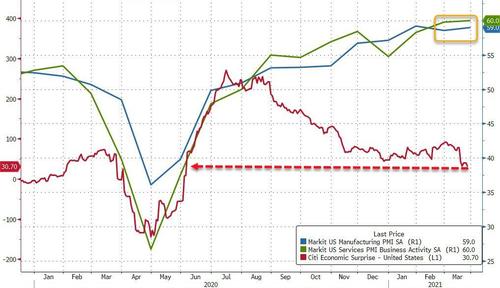 Source: Bloomberg
On the manufacturing side, new orders rise to 60.8 vs 57.4 in Feb. (the highest reading since June 2014) and the ninth consecutive month of expansion.
But the big headlines were all about inflation… and its catastrophic:
Service Costs Soaring:
Reports of ongoing supply chain issues led to marked hikes in input costs across the service sector during March.

The rate of input price inflation was the sharpest since data collection began in late-2009. Firms were able to partially pass higher costs through to clients, however, as selling prices rose at the fastest pace on record.
Manufacturing Costs Soaring:
Amid substantial supplier shortages and input delays, manufacturing firms registered the fastest rise in input costs for a decade in March.

At the same time, firms sought to partially pass greater input prices through to clients, with the rate of charge inflation the sharpest on record. 
Commenting on the PMI data, Chris Williamson, Chief Business Economist at IHS Markit, said:
"Another impressive expansion of business activity in March ended the economy's strongest quarter since 2014. The vaccine roll-out, the reopening of the economy and an additional $1.9 trillion of stimulus all helped lift demand to an extent not seen for over six years, buoying growth of orders for both goods and services to multi-year highs.

"Producers were increasingly unable to keep pace with demand, however, due mainly to supply chain disruptions and delays. Higher prices have ensued, with rates of both input cost and selling price inflation running far above anything previously seen in the survey's history."
Adjusted for seasonal factors, the IHS Markit Flash U.S. Composite PMI Output Index posted 59.1 in March, down slightly from 59.5 in February, to signal the second-fastest private sector upturn for six years.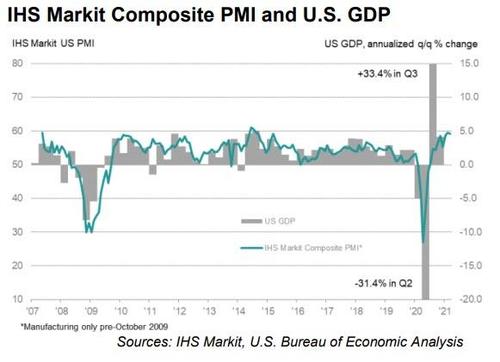 Finally, it is increasingly clear that stagflation is here:
"firms sought to partially pass greater input prices through to clients, with the rate of charge inflation the sharpest on record."

"firms commonly reported slower output growth due to a lack of raw materials to fulfil new orders. The rate of production growth was the slowest since last October."
Of course, The Fed will shrug this off as "transitory" – it's not, as we detailed here – or merely blame it on climate change!?
Tyler Durden
Wed, 03/24/2021 – 09:57