Stellar 30Y Auction, Record Low Dealer Takedown, Sends Yields Tumbling,
Stellar 30Y Auction, Record Low Dealer Takedown, Sends Yields Tumbling,
After yesterday's "stellar" 10Y auction, which according to many came at just the right time to avoid a crash in the bond market – first, and then in stocks – moments ago we got the other, just as closely watched auction, today's sale of $24 BN in 30Y paper which likewise could have make, or break, the bond market if it was a dud.
Well, it wasn't, and in fact today's 30Y auction was one of the strongest ultra auctions in recent history.
The bonds offered for sale, which at $24 billion was just shy of an all time high…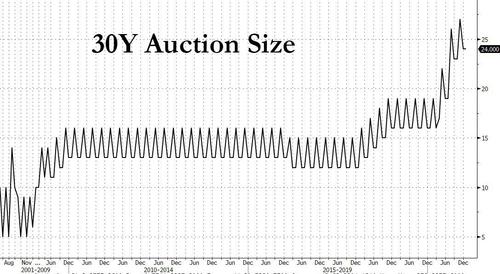 … priced at a yield of 1.82%, which while clearly higher than last month's 1.665%, stopped through the 1.839% When Issued by a whopping 1.4bps, indicating just how badly the When Issued market has misjudged demand for the paper.
The Bid to Cover, coming at 2.472, was well above the six-auction average of 2.334% if slightly below December's stellar 2.481.
But it was the internals that were the real showstopper, because with 68.6% Indirects, the highest since July and well above the 64.0% recent average, Directs took down 17.2%, the highest since Feb 2020, leaving Dealers with a just low 14.2%, a record low number in 30Y auction history.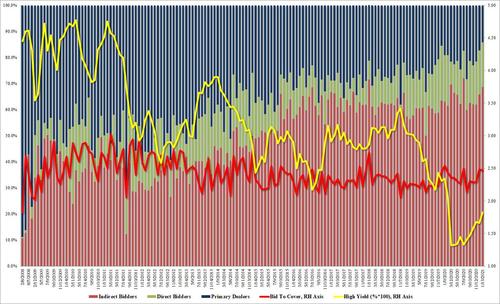 Bottom line: demand for 30Y paper was so very strong, and so clearly not matching the recent weakness in the secondary market, that the 10Y yield crash a massive 3bps(!) once the auction results hit, as it plunged from 1.10% to 1.07%.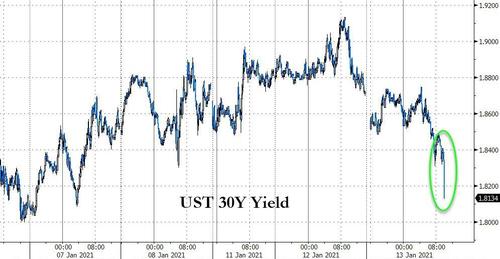 While clearly good news for bonds, this is also very good news for stocks because it means there is much more capacity – and demand – for duration at current levels of perceived inflation, which in turn will help boost demand for risk assets before both bonds and stocks take the express elevator lower.
d
Tyler Durden
Wed, 01/13/2021 – 13:14