Stocks, Crypto, & Bond Yields Soar After "Darkest Moment In American History"
Stocks, Crypto, & Bond Yields Soar After "Darkest Moment In American History"
The hyperbole from every talking-head on what occurred in DC yesterday could not have been more, well, hyperbolic… from "Pearl Harbor" comparisons to the "darkest day in American history" to calls for Trump's immediate execution/termination/impeachment/exile (take your pick).
Before introducing his Justice Department picks from Wilmington, Delaware, on Thursday, Biden offered comments on Wednesday's [chaos at the Capitol] which he deemed "one of the darkest days in the history of our nation" and "an unprecedented assault on our democracy."

"All of us here grieve the loss of life, grieve the desecration of the people's house. But what we witnessed yesterday was not dissent. It was not disorder. It was not protests. It was chaos," Biden said.

"They weren't protesters. Don't dare call them protesters. They were a riotous mob, insurrectionists, domestic terrorists."
But, that didn't stop stocks – which apparently love all the chaos…
As everything ripped higher again at the cash open and even the Nasdaq managed to push into the green for 2021 (biggest daily gain in two months)… Small Caps continue to charge highest…
NOTE – after Monday's opening plunge, each day has seen a buying panic at the cash open…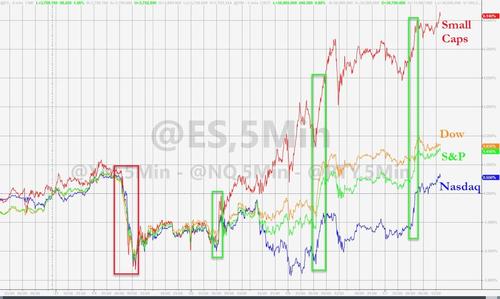 Record highs for stocks! … and record valuations…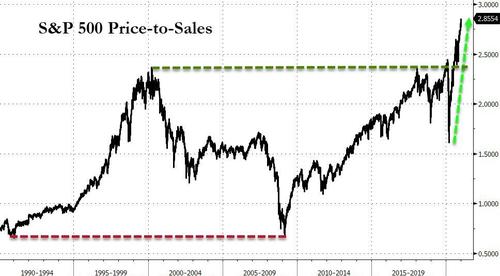 Source: Bloomberg
We even heard someone defending this farce by saying that stocks rallied during WWII, even before we won – oh great!
And if this rise was due to ISM data, that's an utter farce because of the misattribution of COVID-lockdown-driven supply chain disruptions causing longer delays for Supplier Deliveries (that is not a positive factor!).
Elon Musk became the richest man in the world, because…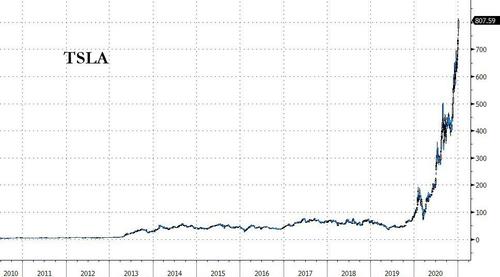 Source: Bloomberg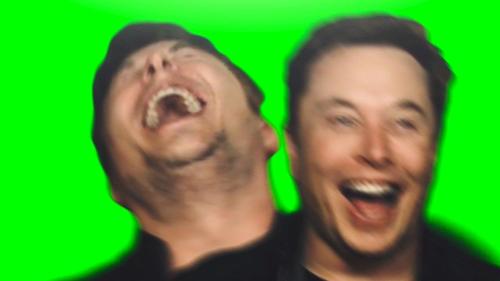 Value stocks are leading the way in 2021…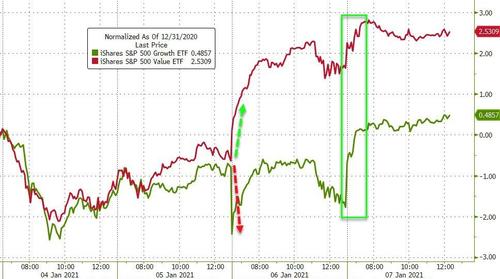 Source: Bloomberg
Banks were aggressively bid again…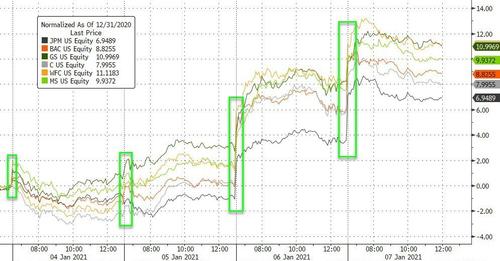 Source: Bloomberg
While FANG stocks bounced back notably…(as they shut down Trump's accounts)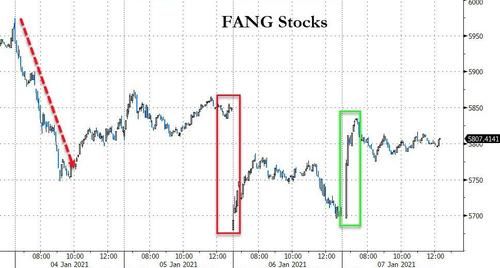 Source: Bloomberg
And all thanks to the fact that the Fed is still monetizing 0.6% of US GDP every month…and are not going to stop anytime soon…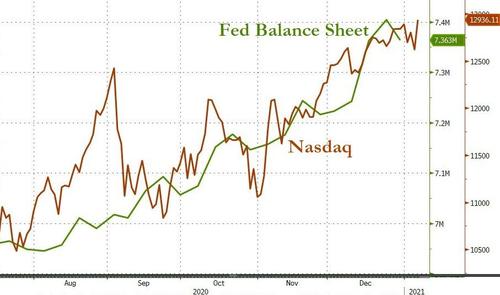 Source: Bloomberg
Cryptos were also enthralled – perhaps more correctly – by the chaos…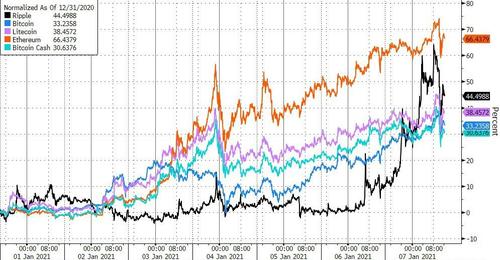 Source: Bloomberg
Bitcoin topped $40k before getting monkeyhammered and then bouncing back hard…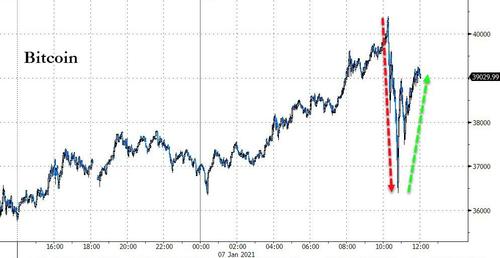 Source: Bloomberg
Ethereum remains below its record high but is getting close…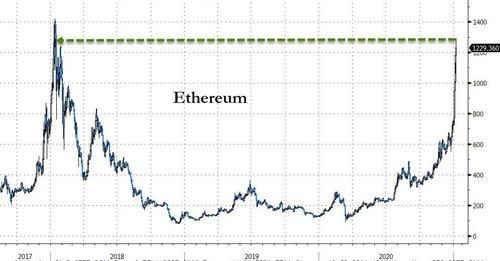 Source: Bloomberg
And as the reflation trade takes hold once again, Treasury yields spiked further (up 3-4bps)…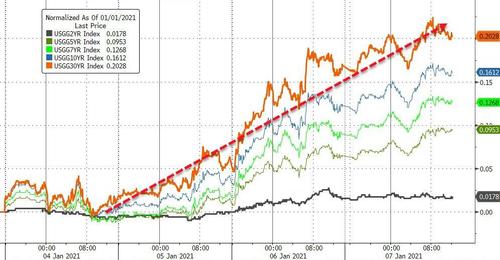 Source: Bloomberg
And this didn't help – KAPLAN: EXPECT YIELDS TO RISE DUE TO BETTER ECONOMIC OUTLOOK
10Y Yields move higher – nearing 1.09% intraday and the highest since the spike in March…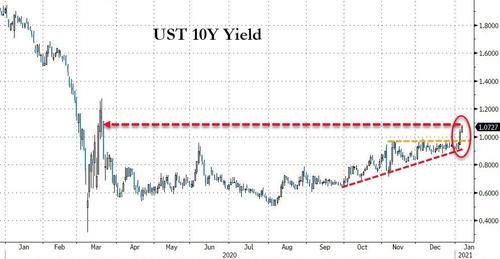 Source: Bloomberg
The dollar surprised, spiking to 2021 highs…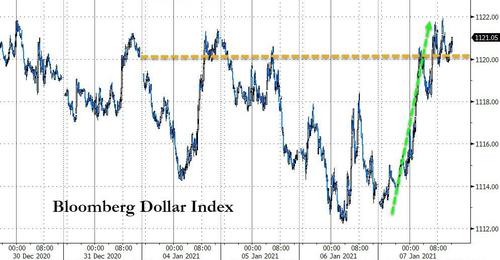 Source: Bloomberg
Gold managed gains despite the dollar gain, but erased most of yesterday's DC-based fear moves…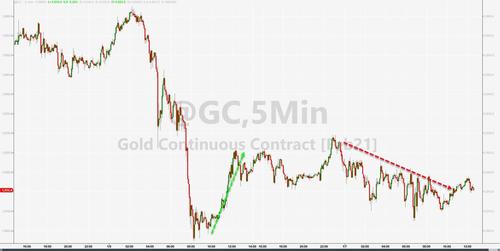 Oil also managed gains with WTI closing just shy of $51…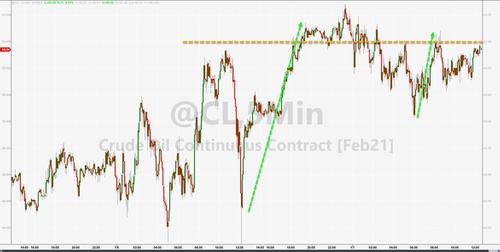 And if commodities are right, 10Y yields have a long way higher to go… 2.00%?!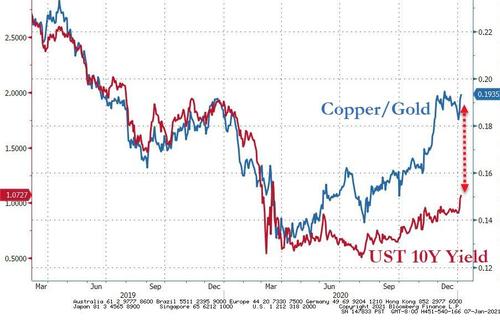 Source: Bloomberg
Finally, on the bright side, we hardly heard a word about the deadly pandemic that has dominated media coverage for months…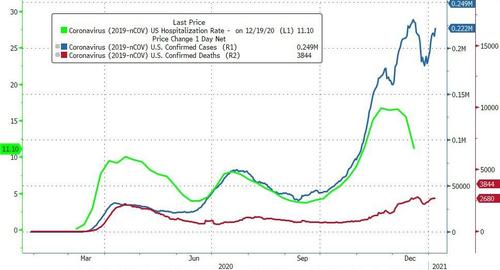 Source: Bloomberg
Tyler Durden
Thu, 01/07/2021 – 16:00