Stocks Expode Higher After Powell Says Will Give SLR Update "In Coming Days"
Stocks Expode Higher After Powell Says Will Give SLR Update "In Coming Days"
In our initial response to the FOMC statement, we noted that while the Fed was far more dovish than most – and certainly Goldman which reset expectations with its prediction for 1 rate hike in the median 2023 dot – there was no comment on one of the most closely watched topics: the SLR, or the Supplementary Liquidity Ratio which some believe is a critical constraint for banks to retain more treasurys/reserves/deposits ahead of what will be over $1 trillion more in QE.
Specifically, we said "curiously, there was no mention of SLR at all, but considering the flood of dovishness in the Fed's statement, we can only assume that the Fed will promptly kick the can on that particular issue as well."
Sure enough, Powell did just that when during his press conference the Fed Chair said that the Fed would address the SLR in the coming days:
POWELL: WE'LL HAVE SOMETHING TO ANNOUNCE ON SLR IN COMING DAYS
And since it is now painfully obvious that Powell will never again do anything to rock the boat, we are certain that an SLR extension is coming in the coming days, the news of which will unleash another buying spree…
Powell on SLR: "we'll have something to announce on that in the coming days"

— zerohedge (@zerohedge) March 17, 2021
…. an outcome which markets are clearly frontrunning, because Eminis soared in kneejerk response to the Fed's SLR comment after moving sharply higher earlier…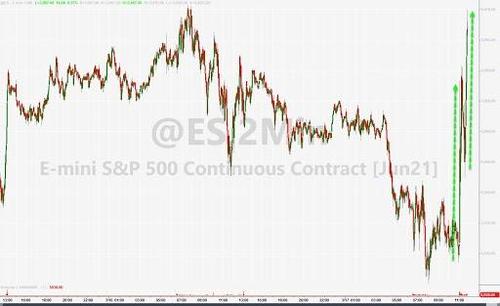 … the dollar plumbed new lows, with the Bloomberg dollar index sliding to a 2 week low and breaching the 100-DMA…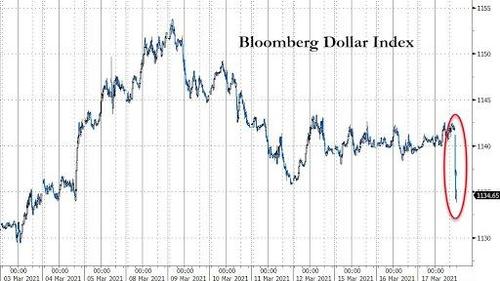 … but more importantly, the 10Y yield – which had been sticky around 1.66% amid the SLR confusion – slumped, giving risk assets a second wind.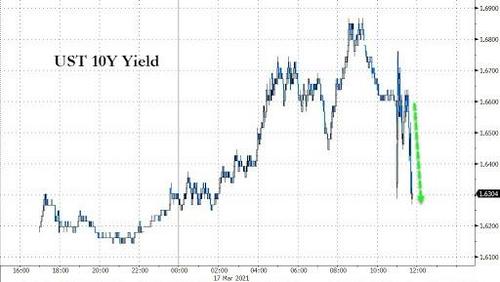 Tyler Durden
Wed, 03/17/2021 – 14:52