Stocks Surge On Expectations Dems Will Unleash Imminent Stimulus Tsunami
Stocks Surge On Expectations Dems Will Unleash Imminent Stimulus Tsunami
After a brief slump overnight, stocks are surging, lead by reflation-friendly small caps which have hit another record, although with the Dow Jones now also at all time highs even the duration-sensitive Nasdaq is in the green.
While there is no catalyst to explain the reversal, one argument making the trading desk rounds is the realization that much more stimulus is coming, and very soon, as the following Bloomberg headline reveals:
DEMOCRATIC SEN. WYDEN EXPECTS EARLY VOTE ON MORE COVID RELIEF
How big are we talking? Well, with goalseeked narrative estimates coming in fast and furious – after all sellsiders need to reflexively justify their bullish outlook now that stocks are surging – the first ones we have seen this morning come from Goldman and Bank of America. Here is what the former expects, as highlighted earlier:
A Democratic Senate majority to allow for greater fiscal policy changes. This would include additional fiscal stimulus in the near term — Goldman has penciled in $600bn (2.7% of GDP) in additional stimulus under this scenario.
Bank of America is even more aggressive: thinks the Dems would inject $2-4tn in deficit spending with much of it frontloaded within the 10-yr budget window via reconciliation. In other words, we could see the Dems try to go for as much as $4 trillion in new stimulus in the coming months. Would they be so bold? Well, as political commentator Jake Sherman writes, they sure would:
And Democrats — including incoming Senate Majority Leader Chuck Schumer and Speaker Nancy Pelosi — will have to ask themselves this question: what good is this political capital if you don't spend it, and fast. They may lose the House in 2022 anyway, so why not push hard?

— Jake Sherman (@JakeSherman) January 6, 2021
The result: all doubt has been cast aside and despite 10Y yields hitting 1.05%, the highest since March, and a level that will make life for long-duration assets very miserable once the hangover sets in…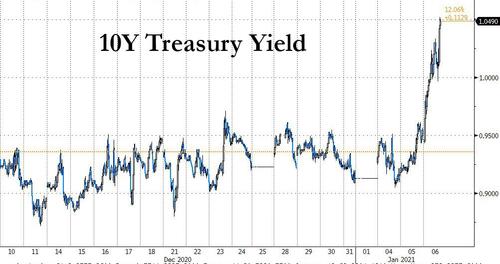 … every equity index is now green, with the Dow, S&P…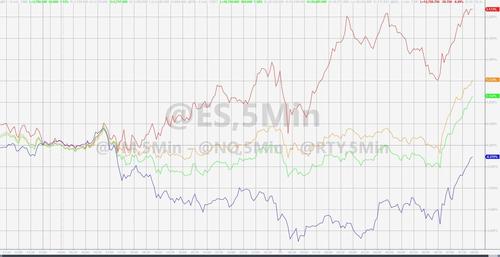 … and even small cap Russell – which is more than double its March 2020 lows – all at all time highs.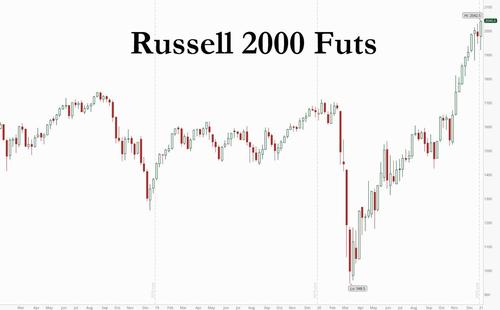 And if the imminent tsunami of money which will lift all stocks if only briefly isn't enough of an explanation, some have offered the following cynical take: NQ rallying because green tech. IWM rallying because rates are rising… We were promised a drop in Nasdaq if rates rose…. and oops.
Tyler Durden
Wed, 01/06/2021 – 10:59