Swaptions Market Hasn't Been This Excited In A Year Ahead Of Fed
Swaptions Market Hasn't Been This Excited In A Year Ahead Of Fed
By Ven Ram, Bloomberg Markets Live commentator and writer
The swaptions market hasn't been in tenterhooks this much ahead of a Fed meeting in a year, a study of volatility patterns shows.
Volatility on the key 1m10y swaption is now about 86 basis points, which factors in a daily move of about 5.4 basis points/day. That is the highest on the day of a Fed review since March 2020.
While the readings were elevated both ahead of the out-of-cycle March 3 and March 15 policy meetings, global financial markets were in extreme tumult by then.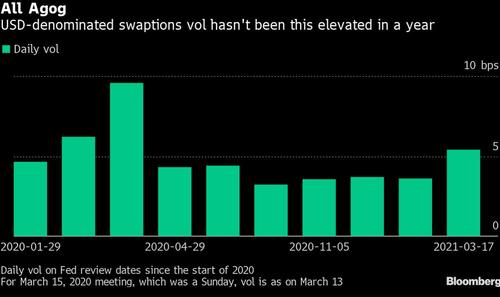 Curiously, as happened last year, the rates market is setting the agenda for the Fed. In the run up to the March 3, 2020 Fed decision, the yield on 10-year Treasuries had slumped about 76 basis points for the year.
Fast forward to 2021, and the margin of increase in the same yield is stunningly the same ahead of Wednesday's meeting. Again, stocks were late to get the message from the rates market last year, and in 2021 too, it's been no different.
Given that the Fed technically still has time to make a decision on the SLR, the dot plot is more likely to guide sentiment after Wednesday's review.
Whatever the outcome on the dot plot and the Fed's guidance on yields, the vol market has every reason to be excited.
Tyler Durden
Wed, 03/17/2021 – 11:20