Tech Wrecks And Russell Roars As Dollar Dead-Cat-Bounce Dies
Tech Wrecks And Russell Roars As Dollar Dead-Cat-Bounce Dies
After an unexpected plunge in Small Business Optimism, buyers of Small Cap stocks were in a world of their own today as the rest of the majors traded together…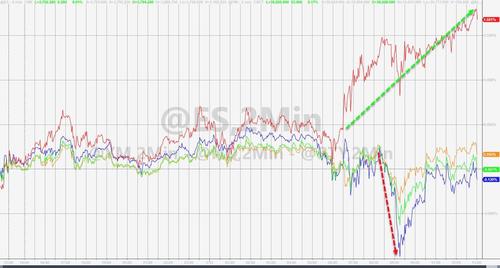 "Mad, Mad World" indeed…
Nasdaq clung to unchanged year-to-date (while Small Caps are up 7.5% YTD!)…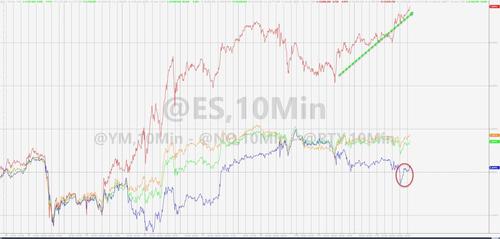 As "Most Shorted" surge for the 7th day in the last 8…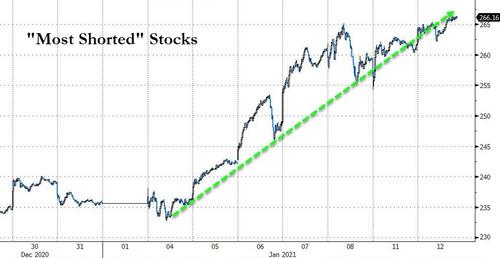 Source: Bloomberg
Energy stocks soared again today, now up 15% YTD as Utes, Tech, & Staples remain red…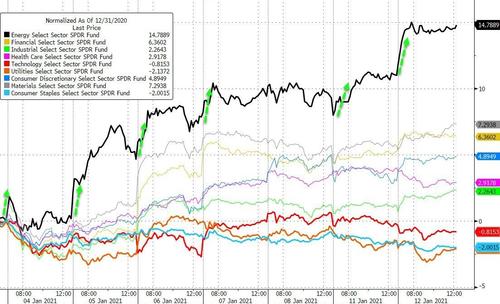 Source: Bloomberg
And option investors have never been so levered long in energy stocks…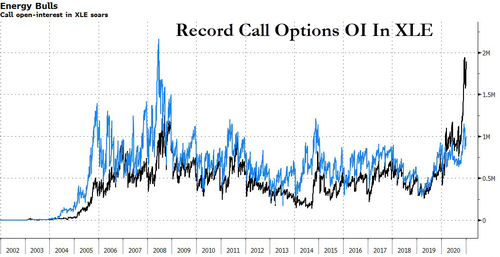 Source: Bloomberg
FANG Stocks were clubbed like a baby seal to two-month lows…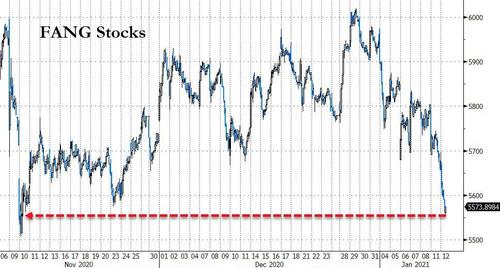 Source: Bloomberg
Small Caps are back at their strongest to Big-Tech since early March, testing up to critical resistance at the longer-term downtrend…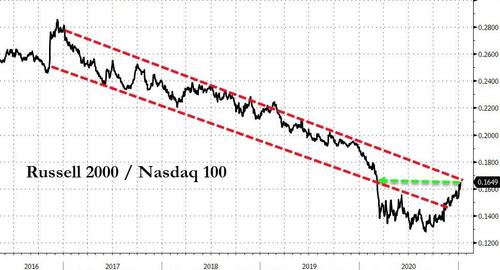 Source: Bloomberg
Growth/Value (Russell 1000) is back at a critical support area once again…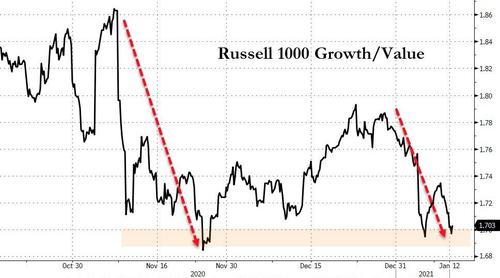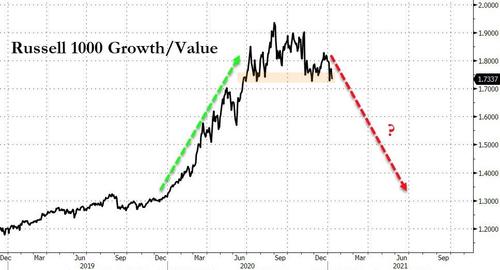 Source: Bloomberg
As Bear Traps Report notes, this neckline has held as each of the growth to value tremors have picked up with the intensity, a break will trigger colossal selling.  If we break this level, growth equities are in big trouble, Tesla is of course a huge weight in the Growth ETF.
Cyclicals continue to surge relative to defensives implying a massive spike in yields to come (or that expectations for growth are head of themselves)…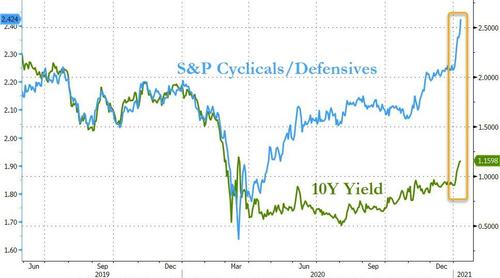 Source: Bloomberg
US yields spiked after Atlanta Fed's Bostic suggested "Universal Basic Income is worth discussing"… i.e. money printer go bbrrrr direct in the pockets of Americans… but a strong 10Y auction (and 30Y topping 1.90%) seems to spark a major reversal as yields ended the day lower – the first down-yield day of 2021…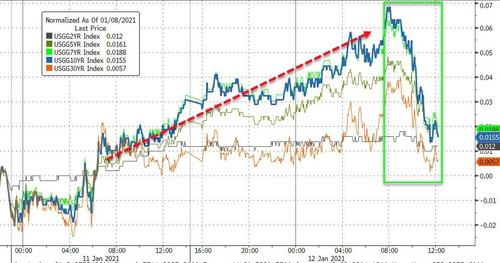 Source: Bloomberg
Crucially, the 10Y yield broke below its recent uptrend channel…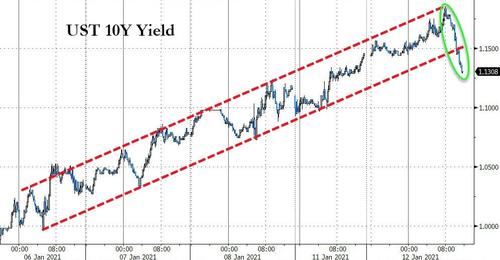 Source: Bloomberg
The 2s10s Real Curve has surged up to its steepest since the post-Trump-election reflation spike…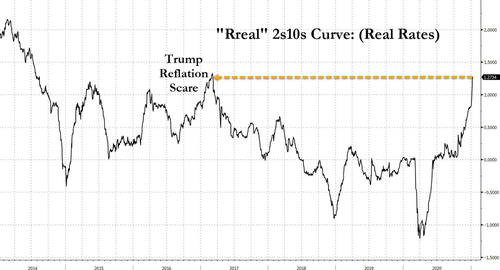 Source: Bloomberg
Elsewhere in bond land, BTP Bloodbath'd with 10Y yield spiking 9bps…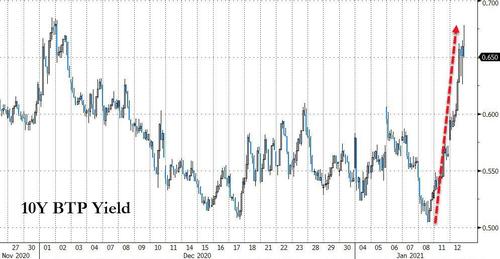 Source: Bloomberg
And Real yields reversed notably today in the 10Y as nominal rates tumbled…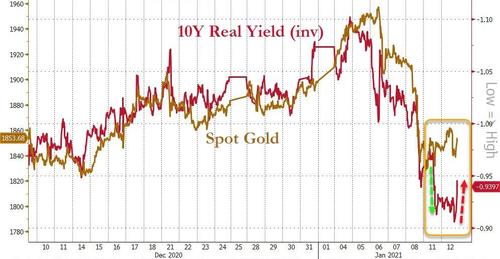 Source: Bloomberg
The Dollar's short-lived dead-cat-bounce is over… as the greenback suffered its biggest daily drop in six weeks…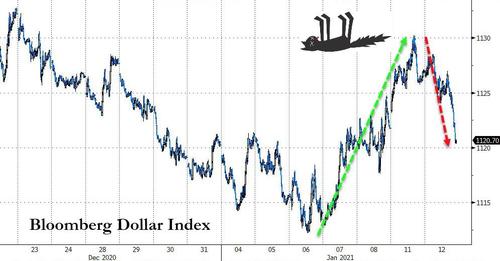 Source: Bloomberg
Bitcoin dramatically rebounded today…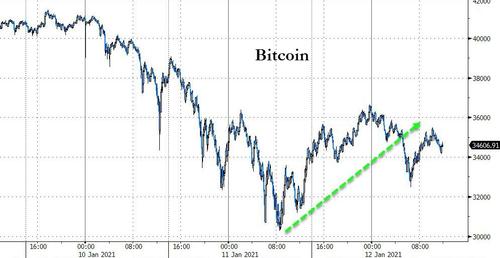 Source: Bloomberg
As a reminder, CoinTelegraph notes that these kind of corrections are anything but unusual for Bitcoin: "bitcoin had 6 pullbacks bigger than our recent -28% in the record setting 1000%+ growth year of 2017."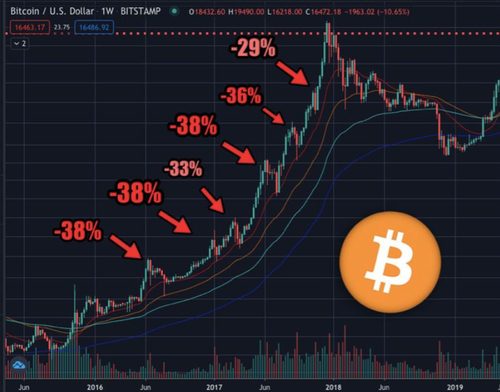 Commodities are broadly breaking out of a very long-term downtrend…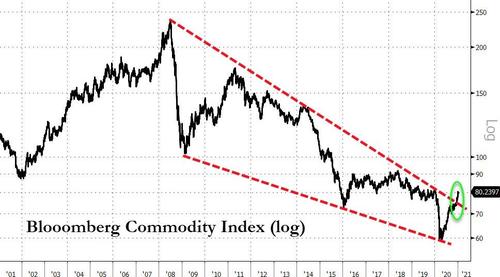 Source: Bloomberg
As oil breaks out to its highest since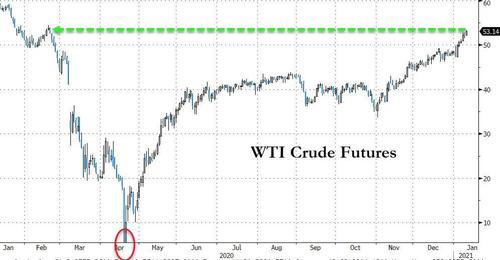 Source: Bloomberg
Gold was higher on the day as the dollar sank…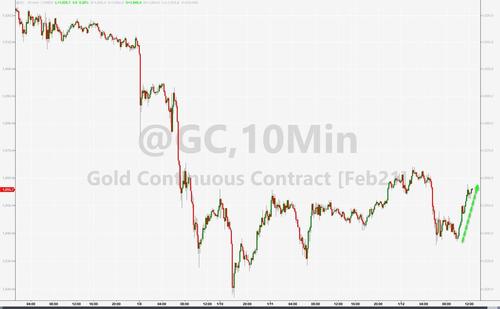 And finally, it doesn't get much more exuberantly over-extended than this…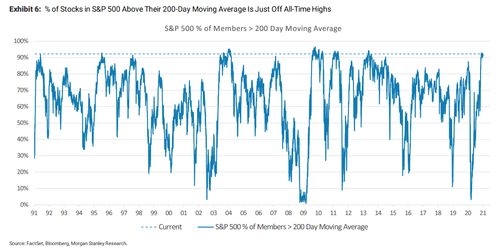 Of course, this could never happen again…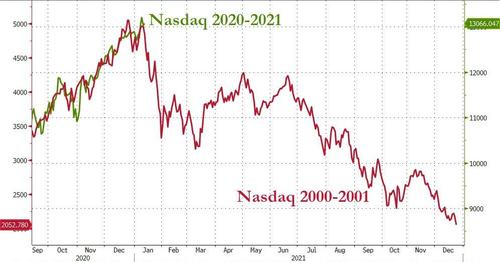 Trade accordingly!
Tyler Durden
Tue, 01/12/2021 – 16:00