Tech Wrecks As Bitcoin, Black Gold, & The Buck Burst Higher
Tech Wrecks As Bitcoin, Black Gold, & The Buck Burst Higher
Global supply-chain fragility was once again exposed as a giant container ship got stuck sideways in the Suez Canal (through which a major percentage of global trade and energy supply flows).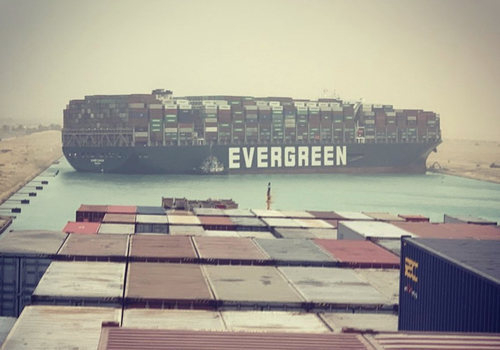 Still could have been worse…
The possibility of 13-15-day delays if tankers are forced to 'go around' sparked a panic-bid in crude oil (despite significant crude builds). This was WTI's best day since early Nov (the vaccine headlines)…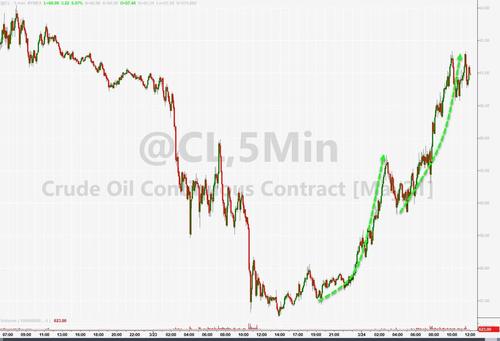 The dollar was also bid, back to 2-week highs…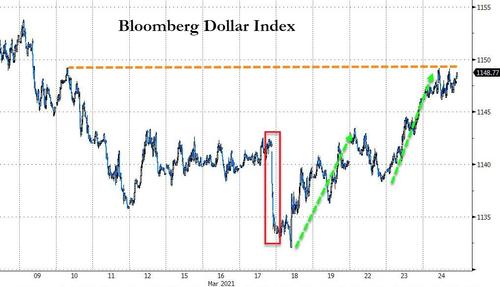 Source: Bloomberg
And bitcoin surged overnight, back above $57, but faded late on as the dollar extended gains…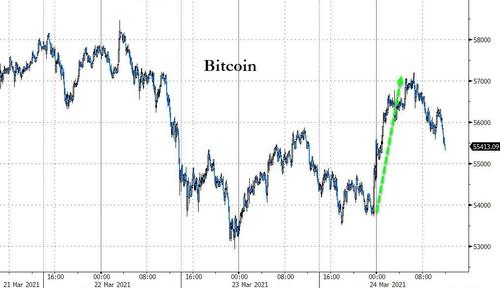 Source: Bloomberg
Small Cap and Big-Tech stocks were clubbed like a baby seal…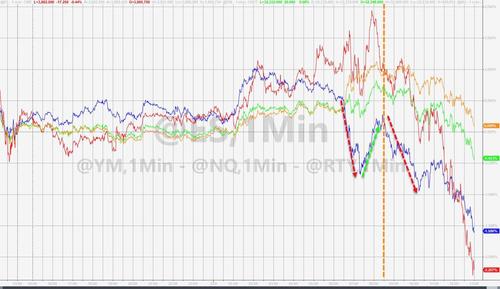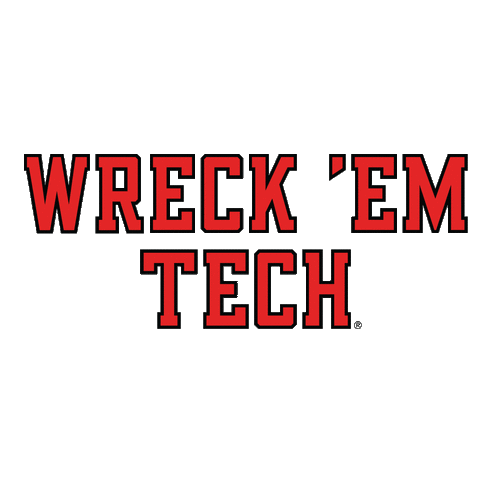 On the week, it's a Small Cap collapse (down over 6%) as all the other majors revert back to unch (Nasdaq and Small Caps are red for March now)…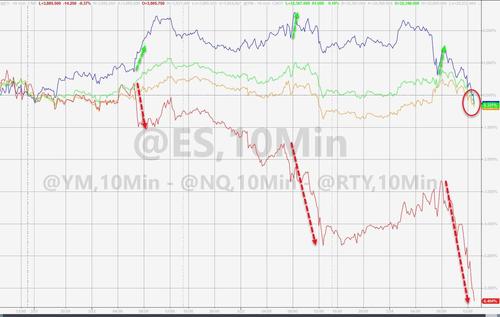 Ugly days for hedgies's favorite holdings as "Most Shorted" stocks also tanked…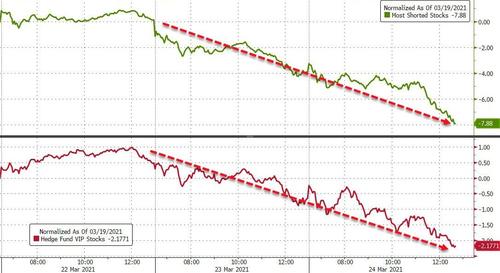 Source: Bloomberg
Cruise Lines crashed back to earth after CDC guidelines were extended to Nov…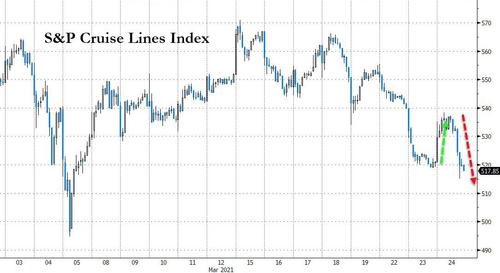 Source: Bloomberg
Cathie Wood's Empire continued to collapse again…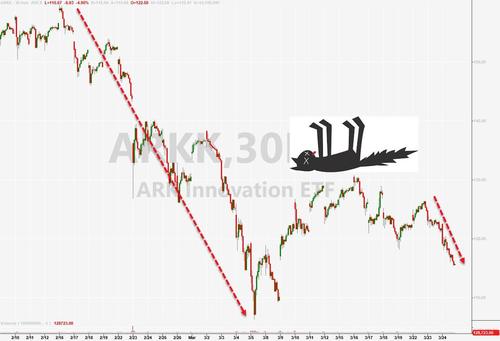 GME was monkeyhammered down 30% today after the earnings call failed to inspire…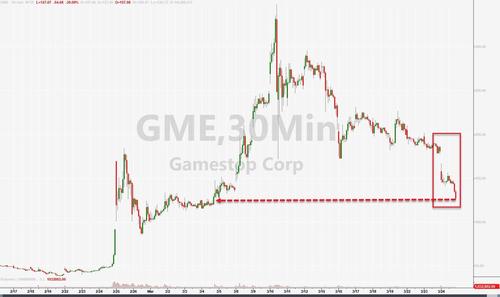 INTC had a wild ride today, from overnight exuberance to utterly dumped by the close…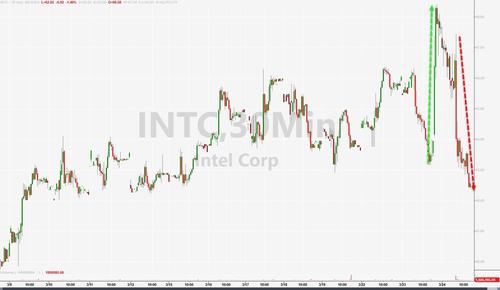 So tech is now wrecking as bond yields tumble?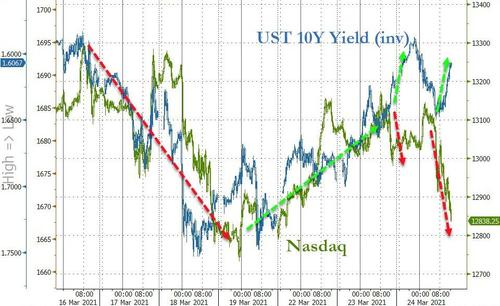 Source: Bloomberg
Bonds rollercoastered (bid during Asia, dumped during Europe, bid during US), but ended lower in yield on the day (10Y -2bps)…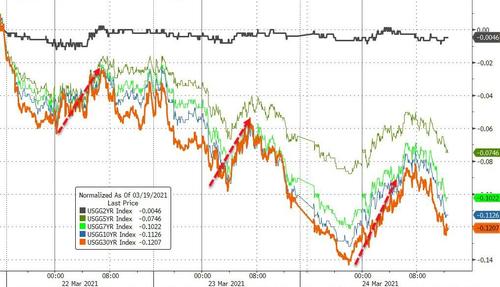 Source: Bloomberg
This is the 3rd daily yield drop in a row, the longest streak since Dec 14th…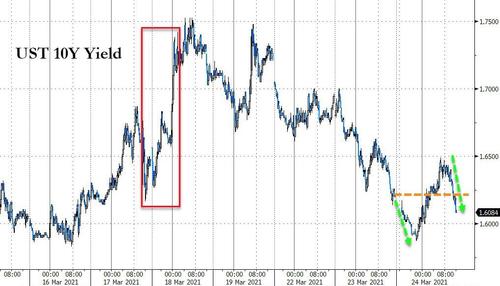 Source: Bloomberg
Commodities were mixed with crude surging (see above) as copper dipped and PMs were flat.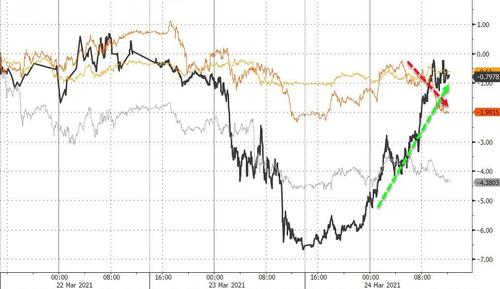 Source: Bloomberg
Finally, US Macro Surprise Index data has tumbled to its weakest since early June this week…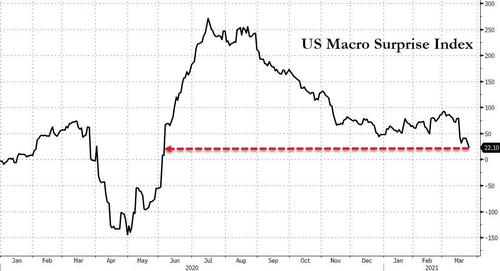 Source: Bloomberg
And in case you wondered why stonks have basically gone nowhere for a while, it's The Fed stupid (and their central bank peers)…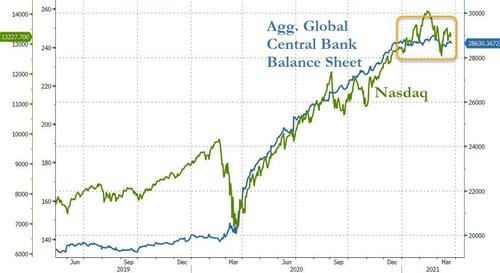 Source: Bloomberg
Time to crank up the printing press once more because 'stable' asset prices is not good enough.
Tyler Durden
Wed, 03/24/2021 – 16:00