Tesla On Autopilot Plows Into Michigan State Trooper's Patrol Car 
Tesla On Autopilot Plows Into Michigan State Trooper's Patrol Car 
Tesla's Autopilot driver-assistance system has been blamed for several crashes (read: here), most notably a 2018 crash in California in which the driver died. So it comes as no surprise that yet another Tesla on Autopilot has caused a serious accident. 
Michigan State Police (MSP) investigates why a 22-year-old, operating a Tesla on Autopilot, early Wednesday morning, plowed into the back of a trooper's vehicle on I-96 near Waverly Rd. in Eaton County, according to local news affiliate WLNS 6. 
At the time of the incident, the trooper was responding to a car versus deer traffic crash and had its emergency lights on before the electric vehicle smacked the back of the cruiser. 
MSP tweeted images of the accident. It appears the Tesla struck the back driver side of the patrol car. Both vehicles appear totaled. There was no word on how fast the Tesla was going while in Autopilot. 
"🚨PATROL CAR STRUCK🚨: On 3/17 at 1:12 am, troopers from the Lansing Post investigating a car vs deer traffic crash on I-96 near Waverly Rd in Eaton County. While investigating that crash with their emergency lights on, a Tesla on Autopilot strikes the patrol car.

Tesla 

Patrol Car
Thankfully there were no injuries, reported MSP. However, the Tesla driver, a "22-year-old man from Lansing, was issued citations for failure to move over and DWLS," MSP said. 
This is the second Tesla crash in the state in about a week. The National Highway Traffic Safety Administration said Monday it's investigating a "violent" crash on Mar. 11 that involved a Tesla and tractor-trailer. 
We would assume NHTSA will be shortly pivoting to a new investigation into this morning's accident. 
NHTSA has urged Tesla before to "improve Autopilot technology." Robert L. Sumwalt, the board's chairman, recently said: "It's time to stop enabling drivers in any partially automated vehicle to pretend that they have driverless cars."
Here's our coverage of some of the latest Tesla crashes: 
For more depth on Tesla accidents, the website Tesla Deaths provides insight on accidents and deaths related to Tesla crashes. To date, the website says there are "167" people who have died. Here's a spreadsheet of the latest accidents via the website: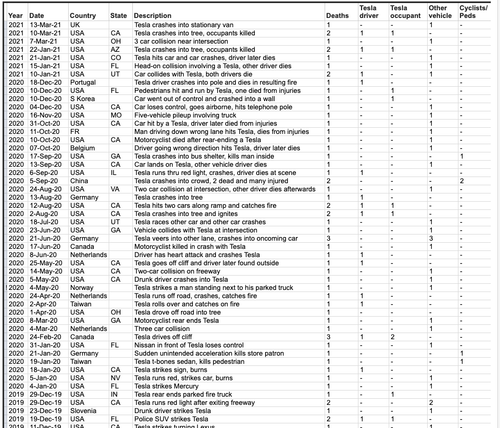 Tyler Durden
Wed, 03/17/2021 – 12:59