The Complex Global Supply Chain Of Semiconductors Explained In One Chart
The Complex Global Supply Chain Of Semiconductors Explained In One Chart
The global supply chain of a semiconductor chip is complex and spans the globe. 
For example, a camera image sensor produced by On Semiconductor is first created with wafers in Taiwan for packaging and testing, then to Singapore for storage, then on to China for assembly into a camera unit. The camera unit is sent to a Hyundai component supplier in Korea before being mounted on Hyundai vehicles in auto factories around the world, according to Reuters. 
A shortage of that image sensor has resulted in Hyundai Motor's plant's idling in South Korea. Other automakers such a Ford Motors Co, General Motors Co, and Volkswagen are experiencing issues. 
The example of On Semiconductor's image sensor winding journey around the world shows just how difficult it is for the chip industry to increase capacity to address the current shortage. 
Meanwhile, President Biden is attempting to address the shortage and has called for a massive effort to bolster the domestic chip industry. He's proposed $50 billion to build out the chip industry as part of his $2 trillion infrastructure proposal. In doing so, the chip supply chain would be far less complex and able to adjust to market fluctuations much quicker. 
Currently, the US only produces 12% of worldwide semiconductor manufacturing capacity, down a whopping 37% since 1990. Asia, on the other hand, commands more than 80% of the chip manufacturing market. 
The complexity of the semiconductor global supply chain is outlined below: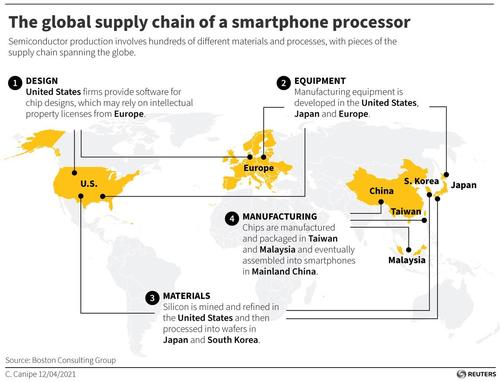 The need to condense production for semiconductor chips appears to be necessary as it seems the current shortage is hard to solve with supply chains spanning the world. 
Tyler Durden
Fri, 04/16/2021 – 04:15