The Cult Of Cathie Wood
It has certainly been a wild ride this year, so far, for ARK Fund investors.
As the NASDAQ has whipsawed back and forth for the last couple of weeks, holders of ARK ETFs like the ARK Innovation Fund (ARKK) have similarly been taken for a wild ride, witnessing up and down days of near 10% on more than one occasion. ARK ETFs fell as much as 30% between February 12 and March 8, the Wall Street Journal notes. 
But for now, it appears as though Cathie Wood is convincing her loyal followers to do just that: keep following.
24 year old Jackson Call, who owns $50,000 of the ARK Genomic Revolution ETF, told the WSJ: "It kept dropping, dropping, dropping, and then it was down 25%. It got painful." He said watching videos of Cathie Wood's constant media tour helped calm his nerves. "She helped me not to sell," he said.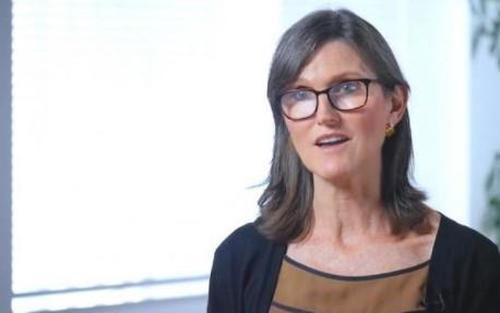 Wood has been on what seems like a never-ending media tour for the last 12 months, appearing not only on major financial news networks what seems like weekly, but stopping into grassroots podcasts and conferences to also make appearances. 
Wood proclaimed in a video March 5: "It's exciting to be alive. We're as excited as ever about everything we're doing."
And it seems investors share that optimism. Despite the selloff in tech this year, ARK investors put more money into the funds than they took out, adding $2 billion in cash to ARK Funds over the past month – about $320 million more than JP Morgan took in for the same types of products. Investors poured more than $36 billion into ARK Funds last year after the Covid selloff. 
31 year old Shawn DaCruz, who owns ARK's Genomic Fund, said: "It may sell off 50%. But if you look at the companies she owns, some of the larger holdings like Square and Tesla, in five years, I'm pretty sure those companies will be around and they will be bigger than they are now."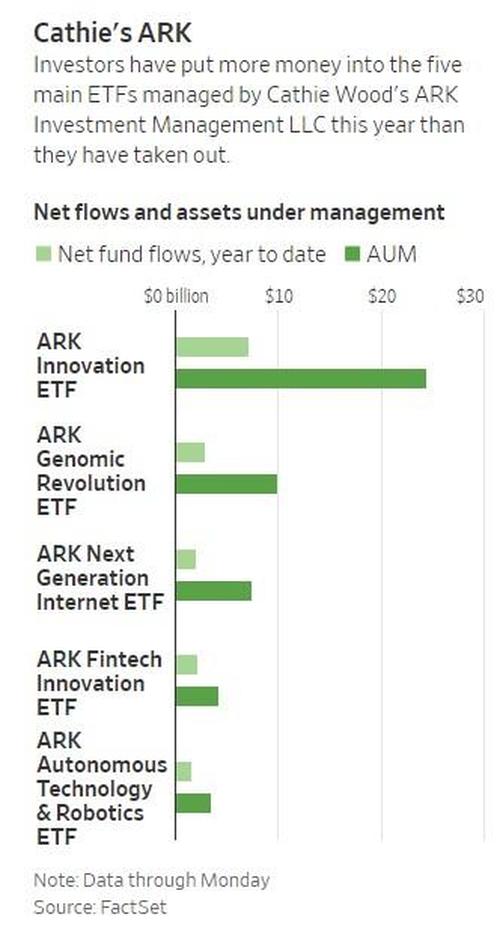 DaCruz "reads every tweet, watches every video and listens to the podcasts put out by Ms. Wood and ARK," according to the Journal. This year, he started designing ARK merch, which he sells through an online store. "My sales are down of course," he said of his ARK merch store. 
55 year old Jeff Sanders said he also wasn't worried about this year's sell off: "She still has conviction. It makes me feel better about it. I got a screenshot of our portfolio and texted it to my wife. I said, 'This is ugly. But it's going to come back.'"
Financial adviser Larry Carroll has been putting his clients into ARK's Innovation ETF since 2018. They have cumulatively bought about $300,000 in shares. He believes in Wood so much that he organized a virtual meeting between her and his clients. "There's nothing wishy-washy about her opinions. Those come through loud and clear and are part of her success," Carroll said. 
As financial advisor Carroll keeps putting his clients into ARK funds, the most prescient quote of the report comes from 27 year old Brock Driver, a production manager at a machining company. Driver said he sold out of the Innovation Fund during this year's drop: "I'm afraid at this moment. We could be getting ready to face something I don't think Cathie can control."
Tyler Durden
Wed, 03/17/2021 – 09:40