The ESG Tide Is Turning: ValueAct's Ubben Calls BlackRock ESG Products "Misguided"
The ESG Tide Is Turning: ValueAct's Ubben Calls BlackRock ESG Products "Misguided"
There probably isn't much of a better weathervane on ESG investing than ValueAct's Jeff Ubben. Ubben was ahead of the curve in embracing the idea of ESG investing before it became the FOMO-investing-technique du jour for most of 2020. 
In fact, Ubben had been on the record as praising the idea of ESG investing dating back to the beginning of 2020. We even recently speculated that Ubben may be taking an activist stake in Exxon to try and direct the legacy oil and gas producer into becoming an environmentally friendlier company. 
Back in January 2020, Ubben was praising BlackRock for its stance on climate change. "It is pretty exciting," he said. "ESG, that's the ticket that's how we get the long-term back."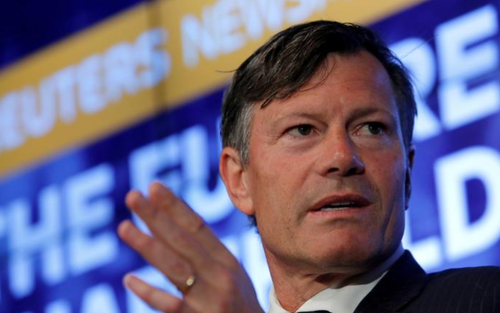 But now, it looks as though the virtue signaling allure of the ESG label could be wearing off and reality setting in. Ubben said in March 2021 – just 15 months after his original comments – that BlackRock's ESG products "won't address climate change". 
In fact, Ubben called them "misguided" in a virtual conference this week, according to Bloomberg. Ubben takes exception to the ESG products because "they don't reward carbon-intensive companies that are reducing emissions".
Ubben said that simply buying ETFs because they have a high ESG score has a "very second or third derivative effect" on climate change.  
And, of course, Ubben is right and is waking up to a reality that, eventually, we expect the rest of the market to open its eyes to. We have constantly documented the numerous "ESG" funds that have hilariously bought up names like Chevron, Exxon, Microsoft, Apple and other names that seemingly don't have any "extra" added environmental benefits to them.
ESG is the biggest virtue signaling scam ever:

"BlackRock iShares ESG Aware ETF (ESGU) includes stakes in Exxon Mobil Corp. and Chevron Corp., for example, while its biggest holdings are in tech companies under investigation for monopoly abuse"https://t.co/Gbwpw5RKPR

— zerohedge (@zerohedge) October 25, 2020
Some ESG funds break down to look just like index funds. Others seem hilariously askew to be "ESG" focused. 
Kudos to Ubben for perhaps having a bit of a come-to-Jesus moment and embracing a slice of reality early. But now the question is: when does the rest of Wall Street have the same wake-up call – and, more importantly, what happens to this ESG focused funds when they do?
We noted weeks ago that America's largest ESG fund – the Parnassus Core Equity Fund – has no direct investments in renewable energy companies, according to Bloomberg, which noted that "Instead, the $25 billion Parnassus Core Equity Fund holds stocks like Linde Plc, an industrial gas company, Deere & Co., the largest manufacturer of agricultural machinery, and Xylem Inc., which makes water and wastewater pumps for municipal customers. It also owns big stakes in technology behemoths Microsoft Corp. and Amazon.com Inc."
About a week ago we wrote that Tariq Fancy, former chief investment officer for Sustainable Investing at BlackRock, wrote an op-ed in USA Today, admitting that Wall Street is greenwashing the financial world, making sustainable investing merely PR, which is a distraction from the problem of climate change.
Fancy appeared later in the day on CNBC and stunned the always-ready-to-virtue-signal anchor by telling her that that "the financial services industry is duping the American public with pro-environment, sustainable investing practices."
You can watch Fancy's CNBC interview here:
Tyler Durden
Wed, 03/24/2021 – 19:30