The Other Rotation – Gold-To-Crypto Flows Accelerate
The Other Rotation – Gold-To-Crypto Flows Accelerate
A rebound in real yields (as nominal rates surge) has slammed the brakes on precious metals (even as the dollar dives)…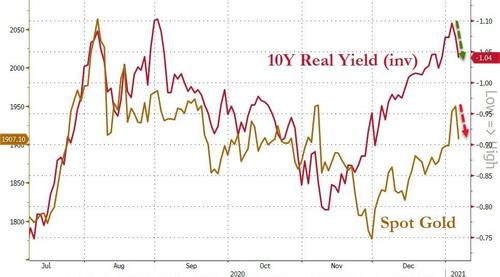 Source: Bloomberg
Gold surged up to pre-vaccine levels last night on the Dems win but has been monkeyhammered lower this morning…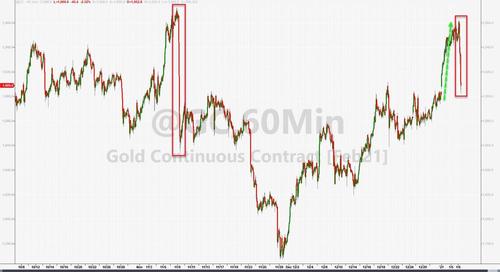 And as PMs suffer, cryptos are surging higher with Ethereum now back above $1200…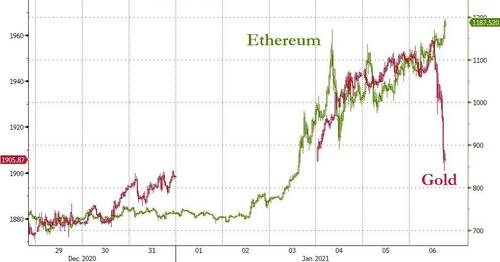 Source: Bloomberg
Notably the ETF premia for Bitcoin and Ethereum (GBTC and ETHE) are diverging as the former is trading at an increasing premium while the latter's premium is compressing as spot catches up…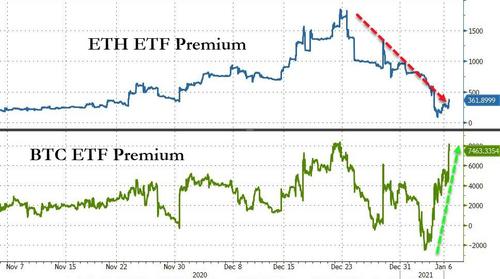 Source: Bloomberg
And, as JPMorgan previously noted, the 'structural' flow from gold to crypto continues…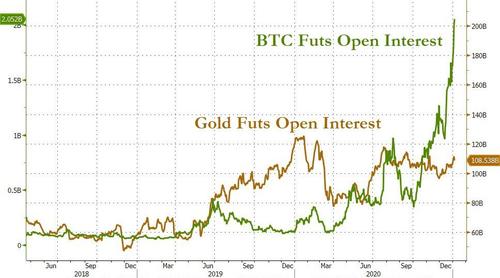 Source: Bloomberg
JPMorgan's goalseeked conclusion is clear:
we believe that the valuation and position backdrop has become a lot more challenging for bitcoin at the beginning of the New Year. While we cannot exclude the possibility that the current speculative mania will propagate further pushing the bitcoin price up towards the consensus region of between $50k-$100k, we believe that such price levels would prove unsustainable.
In other words, bitcoin may well triple from here, but it could also drop.
Tyler Durden
Wed, 01/06/2021 – 11:49