The Quant Rebalance Arrives: Kolanovic Says Now Is The Time To Buy Energy
The Quant Rebalance Arrives: Kolanovic Says Now Is The Time To Buy Energy
Last Friday we previewed this week's "other" main event (besides today's FOMC of course), which we said was Friday's "huge quant rebalance" (the same day as quad-witching opex), in which we showed the winner and losers of what JPM believes will be a major technical event, one which sees tens of billions of capital reallocated between various sectors.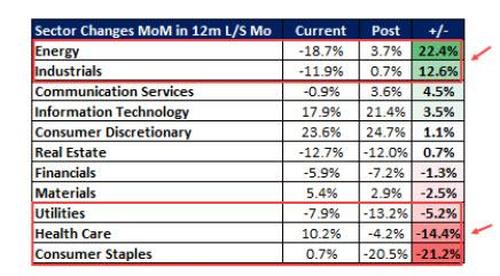 Well, fast forward a few days, when JPM's quant led by Marko Kolanovic write that today is the day to start putting money into the sector that is poised to win the most from the coming rebalance, i.e. energy, which as the bank writes today "look like a buy-the-dip moment." Below we summarize the key points from JPM on the momentuous energy/momentum rebalance that will have material market implications"
ENERGY / MOMENTUM REBALANCE: Energy looks like a buy-the-dip moment.
For the past year, long momentum has been synonymous with secular growth/covid winners, and more recently some idiosyncratic themes like crypto, renewables,SPACs, Reddit favs, etc.
However, due to the recent rotation out of growth into cyclical/value, coupled with the fact that the Feb '20 COVID sell off is dropping out of 12m momentum signals,the definition of momentum is evolving. 12m L/S momentum is becoming a lot lessgrowth, a lot more pro-cyclical/value.
ENERGY will be the largest gainer in 12m L/S momentum (flipping from short to small long). Industrials second largest gainer. Largest OW will now be Cons discretionary, while staples the largest UW.
This could be as much as $20bn – $30bn in inflows.
Marko notes that this morning's price action is the exact opposite of what we should see in terms of factors for the March rebalances.
IMPLEMENTATION:
DELTA-ONE – Our preferred way to play is E&P names, consider the JPME&P Index (JP1ENP Index).
If Refiners are of interest, consider the Refiners & Integrateds(JP1BREF Index). Momentum players may consider 12M Winners(JP1BLME Index) or 12M Laggards (JP1BSME Index).
DERIVATIVES – JPM likes April expiration for bullish single stock structures. For ETF options, it likes both April and June expiration as the volume surface is conducive to both call buying as well as multi-leg,bullish structures.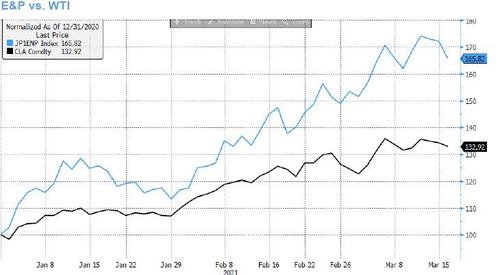 Tyler Durden
Wed, 03/17/2021 – 12:44